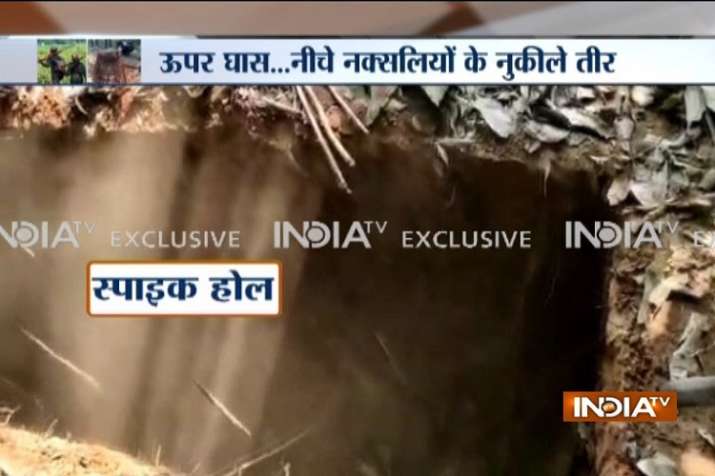 The Cobra battalion of CRPF has foiled a naxals' bid to prevent election staff and security forces from reaching polling booths.
The naxals had dug spike holes containing arrows made of iron rod to cause harm to election staff and CRPF personnel. 
The naxals have been trying to prevent elections from taking place. They have been threating people with dire consequences to restrain them from voting.
Receiving a tip off from a woman, who had been kidnapped by naxals but later released, security forces swung into action. The women revealed about the plans of naxals to subvert the election process.
"These spikes have the capability to pierce through the foot of people and they were put in the holes to hinder the voting process", said Special Intelligence Unit ACP D Shivakumar.
Earlier in the day, Prime Minister Narendra Modi and Congress president Rahul Gandhi launched tirade against each other.
PM Modi lashed out at the Congress party for supporting the urban Maoists who he said have ruined the lives of the poor Adivasi youth in Chhattisgarh. Addressing his first election rally in Jagalpur, the headquarters of the Naxal, hit Bastar, PM Modi accused the party of supporting urban Maoists who were killing innocent people including jawans.
Accusing Modi government of framing policies that favour some selected industrialists, Rahul said Modi and Chhattisgarh CM Raman Singh  don't work without seeking nod from industrialist friends.
Voting for 90 assembly seats of Chhattisgarh is scheduled to take place in two phases. Polling in the most Maoist-affected 18 constituencies in the southern part of the state will take place on November 12. These include 12 constituencies in the Bastar division and six in Rajnandagoan district, the home district of chief minister Raman Singh. Voting in the rest of the 72 constituencies will take place on November 20. 
The Bastar region is spread over seven districts of Kanker, Kondagaon, Narayanpur, Bastar, Dantewada, Bijapur and Sukma. It has a total of 2,831 booths, with the maximum (256) being in Bhanupratappur seat. 
Watch: Naxals dig up holes to subvert elections