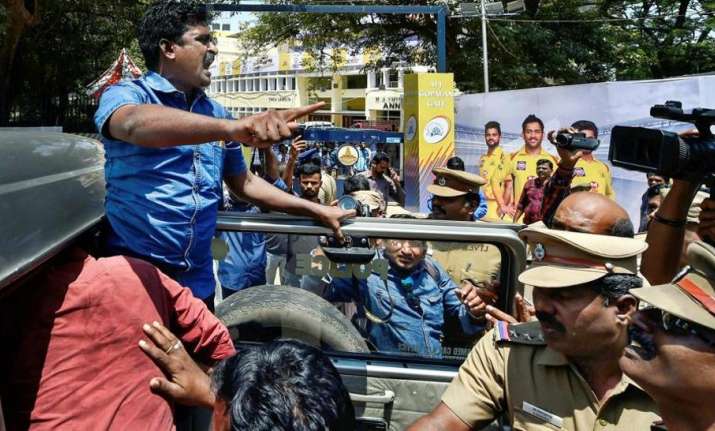 Massive anti-IPL protests by pro-Tamil groups erupted outside the venue of Indian Premier League Match between Chennai Super Kings and Kolkata Knight Riders in Chennai today with scores of activists including film directors being detained even as police chased away agitators in some places. 
One incident of protesters burning yellow jerseys, the attire of Chennai Super Kings players, was witnessed. 
Pro-Tamil groups like Tamizhaga Vazhvurimai Katchi (TVK) and a newly launched forum of Tamil directors had given a boycott call of the popular Indian Premier League. They alleged that the game was being organised to divert attention from the raging Cauvery protests across the state. 
(Live Score: Chennai Super Kings vs Kolkata Knight Riders)
MA Chidambaram stadium turned into a virtual fortress as a 4,000 strong posse of policemen has been deployed for security for the CSK-KKR tie. Flags and banners have been banned, with commandos and Rapid Action Force personnel forming part of the security for the match.
Tamil Nadu has been witnessing protests for the past one week, urging the Centre to constitute the Cauvery Management Board (CMB). Various political parties and outfits have demanded that the IPL matches be not held at a time when the state is witnessing widespread agitations on the vexed issue. 
Also read | Cauvery dispute: TVK workers protest at MA Chidambaram stadium ahead of Chennai vs Kolkata IPL match
As it Happened:
Watch full coverage of the story on Aaj ki Baat: 
09:02 pm: 
Chennai: Naam Tamilar Katchi workers detained for hurling footwear on to the cricket ground during the ongoing #CSKvKKR match at Chepauk stadium pic.twitter.com/JdOy8B8KDU

— ANI (@ANI) April 10, 2018
08:00 pm: Despite massive protests, the match began as per schedule. Earlier, Chennai Super Kings team had faced a slight delay in reaching the stadium due to protests and traffic. 
07:40 pm: 
So much #Yellove! #WhistlePodu #CSKHomeComing #CSKvKKR 🦁💛 pic.twitter.com/YHmBgm1D9X

— Chennai Super Kings (@ChennaiIPL) April 10, 2018
07:30 pm: Traffic came to a standstill on the Wallajah Road and the Anna Salai in Chennai on Tuesday evening after members of some Tamil outfits squatted on the roads demanding cancellation of the IPL match between Chennai Super King and Kolkata Knight Riders to be played in MA Chidambaram Stadium at Chepauk.
07:00 pm: The spectators are trickling into the stadium while the match is expected to start 8 pm. IPL organisers have decided to allow spectators to carry mobile phones into the stadium.
06:45 pm: The agitations especially affected vehicular traffic on the busy Anna Salai, resulting in traffic snarls. In some places, the agitators clashed with police, even as there were reports of police chasing them away.
06:30 pm: Naam Tamizhar leader and film personality Seeman, film-maker Bharathirajaa and scores of activists were taken into custody by police, who had a tough time managing the surging number of protesters. Police detained over 350 people. 
06:10 pm: 
Chennai: Protest by various groups outside MA Chidambaram Stadium in Chepauk, intensifies. They are agitating against #CSKvsKKR IPL match to be held at 8 pm. Heavy Police force deployed. #CauveryManagementBoard. pic.twitter.com/eFcOIfhcAt

— ANI (@ANI) April 10, 2018
06:00 pm: Protests reportedly turned violent at certain places in Chennai as agitators burned IPL team jerseys and created ruckus on streets. The city is witnessing massive traffic jams.
05:00 pm: Meanwhile, IPL Chairman Rajeev Shukla met Union Home Secretary Rajeev Gauba over the security regarding matches in Chennai. Gauba assured him that appropriate arrangements have been made.
Also read | Cauvery dispute: TN CM Palaniswami, Panneerselvam lead AIADMK's hunger strike; 21 lakh shops to remain shut
IPL Commissioner Rajeev Shukla said that the Tamil Nadu government and Chennai police have assured complete security. "Tamil Nadu govt and Chennai police has assured that security will be provided. I met Home Secretary, who spoke to the DGP, gave instructions that full security should be provided to the spectators, players and no untoward incidents should not happen," Shukla told media.
04:00 pm: On February 16, the Supreme Court raised the 270 tmcft share of Cauvery water for Karnataka by 14.75 tmcft and reduced Tamil Nadu's share while compensating it by allowing extraction of 10 tmcft groundwater from the river basin. The court had granted six weeks to the Centre to formulate a scheme to ensure compliance of its 465-page judgement on the decades-old Cauvery dispute, modifying the Cauvery Water Disputes Tribunal award of 2007. 
The court had also made it clear that it would not be extending the time for this on any ground. The six-week period ended on March 29.
03:30 pm: Spectators are not be allowed to carry firecrackers, inflammable materials and firearms, besides bags, mobile phones, brief-cases, pagers, radios, digital diaries, laptops, computers, tape-recorders, binoculars, remote control devices, remote control car-keys or any other electronic devices. 
03:00 pm: TVK leader T Velumurugan had threatened yesterday to hold protests outside the game venue on match day. "If the match is held despite our plea, we will coordinate with all democratic forces to stop it by organising a massive picketing protest. Many leaders and organisations will participate," he had said, adding, "Cricketers knowing Tamil, please understand our sentiments." 
02:00 pm: DMK working president MK Stalin had said the organisers of IPL matches should realise the issues faced by the people and act accordingly.
01:00 pm: Tamil film star Rajinikanth had suggested that CSK team players play with black bands to express the anguish of people who have been staging protests demanding setting up of Cauvery Management Board.
12:00 pm: 
Tamil Nadu: Members of Tamizhaga Vazhvurimai Katchi (TVK) protetst oustide MA Chidambaram Stadium (Chepauk Stadium) in Chennai against #IPL2018 over #CauveryManagementBoard issue. Protesters detained by police. pic.twitter.com/c5fKXGovml

— ANI (@ANI) April 10, 2018
(With inputs from agencies)