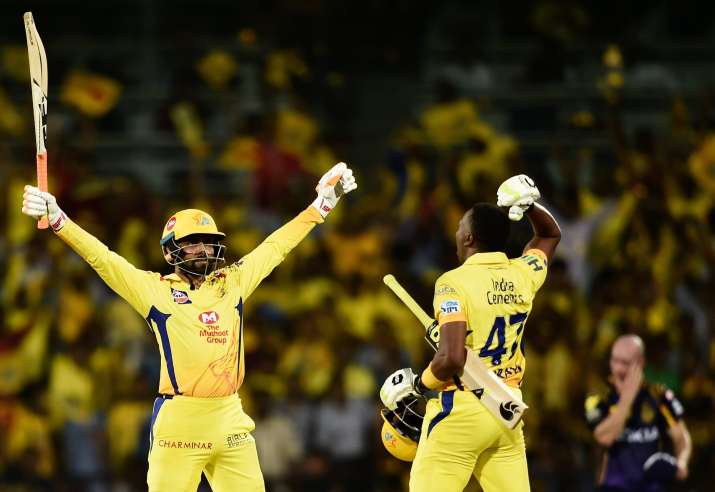 Highlights, IPL 2018, CSK vs KKR Latest Sports News and Updates of Cricket Matches
Hello and welcome to our live coverage of the
Indian Premier League
(
IPL
) match number five between
Chennai Super Kings
(CSK) and 
Kolkata Knight Riders
(KKR) at the 
MA Chidambaram Stadium, Chennai
. Missing the live cricket action on TV? Follow CSK vs KKR live scores and ball-by-ball commentary here through our live blog. After registering a one-wicket win over defending champions Mumbai Indians in the opening match of the IPL 2018,
MS
Dhoni
-led CSK will aim to dominate Kolkata Knight Riders (KKR) when they host the
Dinesh Karthik
-led side at the MA Chidambaram Stadium today. The presence of Chennai's die-hard fans will add to their arsenal when they play their first IPL home game in two years. After serving a two-year suspension due to spot-fixing, the Super Kings came back with a bang as they defeated the
Rohit Sharma
and Co on their home turf in a thriller. As all seemed lost for CSK,
Dwayne Bravo
stepped up and finished the job for the Yellow cramp. It won't be an easy encounter for CSK as the visiting Kolkata side started with a win against the strong Royal Challengers Bangalore (RCB) as
Sunil Narine
, blasted a quickfire 50. KKR's batting sports a formidable look with in-form Dinesh Karthik leading a mix of experience and youth. The bowling department, however, will miss Australian pacer Mitchell Starc but his replacement Tom Curran will look to put his best foot forward. (
CSK vs KKR

 Live Match Watch Online
) (
LIVE CRICKET SCORECARD
)
Who won the toss in today's match?
IPL Toss: Chennai Super Kings win toss, opt to bowl against Kolkata Knight Riders in Chennai
HIGHLIGHTS, CHENNAI SUPER KINGS VS KOLKATA KNIGHT RIDERS, IPL 2018 MATCH 5 FROM MA CHIDAMBARAM STADIUM
23.56 IST: Chennai Super Kings (205/5 in 19.5 overs) beat Kolkata Knight Riders (202/6) by 5 wickets in Chennai. Billings 56, Curran 2/39
What a thriller at Chepauk as @ChennaiIPL clinch a nail-biter in front of their home crowd beating @KKRiders by 5 wickets. @sambillings you beauty and what a finish from @imjadeja #VIVOIPL #CSKvKKR pic.twitter.com/cHOomMS3nX

— IndianPremierLeague (@IPL) April 10, 2018
23.46 IST:  OUT! Curran removes Billings for 56. Billings is gone! At the wrong time he'd feel, but his side is still in the game because of him. He looks to clear long off, but doesn't get the desired elevation on this. Straight down the throat of Robin Uthappa who takes it this time. He had dropped him earlier, so will be happy he held on on this occasion. 19 needed 8 to win for Chennai. Chennai Super Kings 184/5 in 18.4 overs vs Kolkata Knight Riders (202/6) in Chennai
23.41 IST: FIFTY! Sam Billings hits 3rd IPL half-century. Tom Curran to Sam Billings, 1 run. Fifty for Sam Billings! His 3rd in this competition. Has kept Chennai in the hunt so far, lovely knock. He works this down to fine leg and takes a single. Chennai Super Kings 177/4 in 18.1 overs vs Kolkata Knight Riders (202/6) in Chennai.
23.38 IST: SIX! It's not over yet! Not yet! Sam Billings is keeping hope alive. Length ball on middle and leg, Billings backs a long way away and lofts it over long on. Superb hit.
23.36 IST: SIX! Absolutely unbelievable from Sam Billings. He's shown over time he's capable of such shots. But man, the execution is incredible. Low full toss on leg, Billings moves across, gets low and scoops it over the fine leg fence for a maximum.
23.34 IST: FOUR! Billings continues with the charge! Full and flat on off, the Englishman stands his ground and slogs it over mid-wicket. Perfect placement, pierces the gap between the two men in the deep and gets a boundary.
23.32 IST: Ravindra Jadeja comes out to bat. Interesting move with Dwayne Bravo sitting in the hut.
23.31 IST: OUT! Chawla removes Dhoni for 25. That's a good catch from Dinesh Karthik. Chawla has his first of the game. Quick again, outside off, Dhoni gets low to swing across the line. Gets a bottom edge and Karthik behind the stumps takes a superb catch. The umpire checks for the front foot no ball, but the leggie is fine. 48 runs needed to win in 21 balls.  Chennai Super Kings 155/4 in 16.3 overs vs Kolkata Knight Riders (202/6) in Chennai.
23.24 IST: MS Dhoni's daughter Ziva cheers for Chennai Super Kings, gets clicked with Shah Rukh Khan; See Pics
23.21 IST: CSK 145/3 in 15 overs. SIX! Fantastic, Sam Billings! Yes, it was a bad ball, but it needed to be put away and he did just that. High on the hips, he swings across the line and it's over the square leg boundary for a maximum. 17 off the over. 58 needed off 30.
23.19 IST: SIX! Got underneath that very well. Excellent hit. Quite full outside off, Billings makes room and then lofts it without any second thoughts. Clears the cover fence with ease and gets a biggie to his name.
23.18 IST: Sam Billings Dropped! That has to be taken! Has to be. Full ball attacking the stumps, Billings stays leg side and lofts it towards mid off. Uthappa moves to his right, gets his hands to it and spills it. Poor. It rolls behind and two runs are taken as the other fielder mops it up.
23.13 IST: SIX! Has MS Dhoni decided to go for it from here? Could this be the moment? The signs are there. Loopy and full on middle, Dhoni slogs it high and mighty into the mid-wicket stands for half a dozen.
23.11 IST: FOUR! BANG! That's hammered. Full on off, too full and Dhoni goes for it. Smashes it past the bowler and there's no stopping it. Goes all the way to the fence for a boundary.
23.06 IST: FOUR! Billings impresses with this shot selection. That's a fine, fine shot! Nicely done. Sees the flight on the ball and then dances down the track. Whips it hard with the wrists and beats Rinku Singh in the deep, who runs to his right from long on to stop it but eventually fails. Boundary! CSK 108/3 in 12.3 overs.
23.03 IST: Sam Billings walks into the middle next.
23.02 IST: OUT! Narine to Raina for 14. Raina departs! It was inevitable, probably. Around off, slightly quicker in pace, Raina goes back and looks to clear long on. Doesn't get enough power, so it falls in the long on region. Vinay Kumar gets under it and takes a very good catch. Blessing in disguise for Chennai?  Chennai Super Kings 101/3 in 11.3 overs vs Kolkata Knight Riders (202/6) in Chennai.
22.59 IST: Sunil Narine to MS Dhoni, Not out! Huge cheers from the crowd. Good call from the umpire. Floated on middle and off, Dhoni presses forward to defend. It spins in, beats the inside edge raps Dhoni on the pads. Big appeal goes up, the umpire shuts it down. But, Kolkata then decide to review it and it's taken upstairs. Replays show it would have gone down leg. Dhoni survives.
22.57 IST: REVIEW! And immediately a review is taken. It's for an lbw decision against the Chennai skipper MS Dhoni. Looks close. Over to the TV umpire now...
22.56 IST: SIX! Think this is the way he's going to go now. Just stand his ground and try to put them away. Looped up outside off, the southpaw plants his front foot forward and lifts it nicely over the cover fence for a maximum. 103 runs needed to win in 54 deliveries.
22.50 IST: Shoes hurled at CSK's Ravindra Jadeja, Faf Du Plessis during match (Read full story)
22.48 IST: Sunil Narine to Suresh Raina, 1 run. Quicker on off, Raina pushes it down to long on for a run. He is limping as he runs to the other end. He now takes his pads off and is holding his calf. The physio is now out there, having a look at his calf. Chennai would hope it is only cramps. Raina now is back on his feet and is good to continue.
22.45 IST: MS Dhoni is the next man in.
22.44 IST: OUT! Kuldeep Yadav removes Rayudu for 39. Kuldeep strikes in his first over and there is pin drop silence around the stadium. All those tight overs have paid dividends here. Another set batsman is out of here. Kuldeep tosses this one up outside off, Rayudu once again tries to go inside out over covers. There, however, is a man in the deep, Shiva Mavi, the substitute. He comes running in and takes it comfortably. Chennai now find them self in a little trouble. 118 in 69 needed. Chennai Super Kings 85/2 in 8.3 overs vs Kolkata Knight Riders (202/6) in Chennai.
22.40 IST: Sunil Narine to Ambati Rayudu, 1 run. Shorter in length and on middle, Rayudu pulls it towards wide long on for only a run. So two tight overs for Kolkata, 8 from the last two. CSK 83/1 in 8 overs, need 120 runs.
22.32 IST: Andre Russell to Ambati Rayudu, 1 run. Russell who is bowling his third over on the trot lands it on a length around off, Rayudu taps it towards backward point and takes a run. The fielder scores a direct hit at the striker's end but the batsman is well in.  
22.26 IST: Suresh Raina is in at no. 3! 
22.25 IST: OUT! Kolkata get their man as Shane Watson departs for 42. Tom Curran bowls the same length and the results favored him this time. Chennai lose their first wicket. Curran has the last laugh. First wicket for him in the Indian T20 League and it is the big one of Watson. He has hit it straight to the man! You just cannot pick out a fielder any better. Short and on middle, Watson rocks back and pulls it. He fails to keep it down and it goes into the hands of Rinku Singh at deep mid-wicket who takes it. A much-needed wicket for Kolkata a blazing innings by the opener and the 75 run stand has come to an end. 128 more needed in 85 balls. CSK 75/1 in 5.5 overs
22.21 IST: SIX! Tom Curran comes on to bowl and is sent for a maximum by Shane Watson. A power hit by the big Aussie. Make that 10 from the first two! WOW! Full and it is the slower one. Watson picks it up early and then picks the bones out of the ball and dispatches it over the long off fence. CSK 73/0 in 5.2 overs
22.20 IST: FOUR! Welcome Curran. First ball off the youngsters, T20 League is pulled for a boundary. Short and on middle, Watson rocks back and pulls it through mid-wicket for a boundary.
22.19 IST: Ten off Russel's over and Watson, Rayudu seem well settled at the moment. The CSK openers are making the most of the powerplay as they need more fireworks to reach a formidable target set by the opposition. CSK 63/0 in 5 overs
22.17 IST: FOUR! A sweet touch by Rayudu on Russel's delivery and it goes down to third man where no one is present. 62/0 in 4.4 overs
22.14 IST:  FOUR! Now a boundary, 16 from this over already! This one is short and wide outside off, Rayudu rocks back and pierces the gap through covers and it races away. 50 up in quick time and they need another 151. 52/0 in 3.3 overs
22.11 IST: SIX! CLEAN AS A WHISTLE! Chennai on the charge! A little shimmy down the track, gets to the pitch of the ball and sends it sailing over the bowler's head for a biggie. Game on! CSK 48/0 in 3.2 overs
22.06 IST: Piyush Chawla to Shane Watson, 1 run. The batsman flicks it away with a wristy shot. The batsmen have run through for a single.  After 2 overs, CSK are 30.
22.05 IST: SIX! It has been a carnage today! First by Russel and now by Watson. What a start for Chennai this is. Chawla floats this one up, not a good idea on this wicket. Watson goes down on one knee and slog sweeps it over the mid-wicket fence for a biggie.
22.03 IST: Piyush Chawla to bowl from the other end.
22.02 IST: FOUR! It gets even better! 16 from it! On a length and outside off, Watson leans into it and drives it through covers for another boundary. Kolkata scored 18 from their first, Chennai have 16.
22.01 IST: SIX! Watson on the charge! They are going from the out set! A full ball this time, this is right in the zone. Watson tonks it over the long on fence for half a dozen. Superb start for Chennai.
22.00 IST: FOUR! First boundary for this innings! Short and on middle, a nothing bouncer. Watson pulls it fine, beats the short fine leg fielder and fetches a boundary.
21.56 IST: We are back for the chase! 203 is what is needed, a massive task is what awaits the home side. They would hope for Ambati Rayudu and Shane Watson to provide them with a good start Vinay Kumar will open the bowling for Kolkata.
21.55 IST: Russell's unbeaten 88-run knock powers KKR to 202/6
21.44 IST: Kolkata Knight Riders post 202/6 in 20 overs vs Chennai Super Kings in Chennai. Russell 88*, Watson 2/39. SIX! Finish the innings off with a big bang! Andre Russell is an absolute powerhouse. Full ball outside off, Russell stands his ground and just throws everything behind this. Smashes it high and hard over long off for a maximum. KOLKATA FINISH ON 202/6!
Innings Break!

Batting heroics from @Russell12A as #KKR post a formidable target of 202/6 for #CSK to chase.#CSKvKKR #VIVOIPL pic.twitter.com/SrtgdNEeZ8

— IndianPremierLeague (@IPL) April 10, 2018
21.40 IST: SIX! He's still going at it! Wowza! No stopping him tonight, is there? Thakur serves it on a platter to Russell outside off, full in length, the batsman throws the kitchen sink at it and sends it into the cover stands for half a dozen.
21.35 IST: MS Dhoni's daughter Ziva cheers for Chennai Super Kings; Watch video
21.31 IST: Tom Curran comes into bat.
21.30 IST: OUT! Watson removes Karthik for 26. Watson strikes and breaks the 76-run stand. Excellent, excellent delivery from the Aussie veteran. He comes running in and spears in an inswinging yorker on middle. It keeps tailing down and catches Karthik low on the back pad. The appeal is made and the finger goes up. DK talks to Russell, thinks it might be going down leg so he reviews it. Replays roll in and it shows the ball to be clipping leg stump. He's gone, Chennai have their breakthrough. Kolkata Knight Riders 165/6 in 17.4 overs vs Chennai Super Kings in Chennai.
21.26 IST: FIFTY! Andre Russell hits his 4th IPL half-century off 26 balls. DROPPED and SIX! 4th Indian T20 League fifty for Andre Russell! Full and outside off, the big man smacks it flat over covers. Rayudu out in the deep, moves to his right and leaps to take it. But it somehow slips through his palms and goes over the rope. Can't believe it, that should have been taken. Kolkata Knight Riders 163/5 in 17.1 overs vs Chennai Super Kings in Chennai.
21.22 IST: Since the ball went out of the stadium, a replacement has been called for.  
21.21 IST: That's huuuugggeeeeee!!!!! When Russell hits 'em, they stay hit. So much power behind that. Full on the stumps, Russell has this in his slot. He clears the front leg and smokes this out of the park for a biggie. His power can't be doubted, like most from the Caribbean. Ooofff!!
21.18 IST: SIX! Consecutive big ones from Dre Rus! Juicy full toss, He stands his ground and launches this with all his might, over long on and deep into the stands. What a shot.
21.16 IST: SIX! The knuckle ball and it's dispatched. BOOM! Fuller in length, around off, Russell ensures his gets his front foot out of the way to generate power behind this. Connects well and smokes it over wide long off. Biggie.
21.10 IST: SIX! Brute force for Andre Russell! Fuller ball, right in his zone. He clears his front leg and goes bang over long on. Clears the fence with ease and gets a maximum to his name.
21.00 IST: Imran Tahir to Andre Russell, no run. Outside off, played to point to end the over. KKR 104/5 in 12 overs.
20.57 IST: FOUR! The 100 comes up for Kolkata! Overpitched delivery from Watson, just outside off, Russell drills this perfectly between extra cover and mid off. Through the gap and it's away to the fence for a boundary.
20.51 IST: Andre Russell comes out to bat.
20.50 IST: OUT! Shardul Thakur removes Rinku Singh for 2. Half the side back in the hut now for Chennai! What a turnaround this has been. From 80-2 they are now 89 for 5. Rinku Singh is the man walking back. A soft dismissal. He gets a full ball outside off, Singh goes after it with a drive but does not keep it out. It goes straight into the hands bravo who accepts it gleefully. Kolkata Knight Riders 89/5 in 10 overs vs Chennai Super Kings in Chennai.
20.46 IST: FOUR! Short and wide outside off. A hit me ball and Dinesh cuts it well through point for a boundary.
20.44 IST: Rinku Singh comes out to the middle.
20.43 IST: OUT! Uthappa Run Out for 29. The last thing Kolkata wanted. Second wicket in the over. Now I do not know what to write here. Was Uthappa's carelessness the reason for this wicket or Raina's brilliance. Uthappa drives this ball on off towards covers and is ball watching. Karthik thinks there is a run it and there was one. He sprints towards the other end but Robin is not looking at him. He realizes very late that Karthik is next to him and then goes for it. However it is too late by that time as Raina dives to his left, he does not make a clean collect but recovers quickly and scores bull's eye at the non-striker's end. Watson too does well to let it go. Uthappa is well short and Kolkata are now in a spot of bother here. Kolkata Knight Riders 81/4 in 8.2 overs vs Chennai Super Kings in Chennai.
20.41 IST: Dinesh Karthik walks into the middle next.
20.39 IST: OUT! Watson removes Nitish Rana for 16. The bowling change has worked wonders! Watson gets the wicket of Rana. A short ball on the pads cramping the batsman for room. Rana tries to pull but it goes off the gloves and balloons towards Dhoni who runs to his right and takes an easy catch. He appeals and the umpire raises his finger. Rana walks back cheaply today. The runs are coming for Kolkata but they are losing wickets at regular intervals.  Kolkata Knight Riders 80/3 in 8.1 overs vs Chennai Super Kings in Chennai.
20.36 IST: Shardul Thakur to Nitish Rana, 1 run. One to end the over! A good by Shardul in the context of the game. Shorter in length on the body of the batsman. Rana mistimes his pull towards mid-wicket for a run.  KKR 80/2 in 8 overs.
20.34 IST: FOUR! TOP SHOT! Thakur goes full this time and pays the price. Rana picks his spot. Sees mid off is in and lofts the delivery over that fielder and into the fence.
20.32 IST: FOUR! Bad ball and put away! Short and outside off, Rana rocks back and cuts it through point. There is a fielder who tries to stop it but his effort goes in vain.
20.26 IST: Nitish Rana strides out to the middle.
20.25 IST: OUT! Jadeja removes Chris Lynn for 22. TIMBER! Jadeja strikes! A much-needed wicket for Chennai as these were going bonkers. That is it for the Lynn show today as he comes down the track a little too early. Jadeja sees that and darts it on middle. Lynn swings across the line and misses to see the ball disturb the furniture behind. Chennai will now try and put a lid on the scoring. Kolkata Knight Riders 51/2 in 5.2 overs vs Chennai Super Kings in Chennai.
20.19 IST: Just 2 runs from the over. After 4 overs, KKR are 35/1 in Chennai.
21.16 IST: FOUR! Edged, but runs! Dealing in boundaries are Kolkata here! This was nicely played. On a length outside off, Uthappa guides it past the slip fielder and the ball races away to the fence.  KKR 33/1 in 2.5 overs.
21.15 IST: FOUR! Second off the over! Bread and butter stuff for Uthappa. He gets it full on the pads. Robin flicks it up and over square leg. It almost goes all the way but bounces in front of the fence for a boundary.
20.14 IST: FOUR! Welcome to the bowling crease Watson. A loosener by him, outside off and on a shorter length. Lynn slaps it hard through the off side. He loves it there, not a good idea by the Chennai pacers to bowl there.
20.13 IST: Shane Watson is into the attack.  
20.10 IST: Robin Uthappa walks out to the middle.
20.09 IST: OUT! Harbhajan removes Narine for 12. In the air... taken! Harbhajan Singh draws first blood and the fans here in Chennai go crazy. No more fireworks from Narine as he is walking back. Harbhajan uses all his experience and bowls this slower through the air. He gets it to spin away from the batsman. Sunil tries to heave it across the line but gets a top edge which goes high, HIGH up in the air. Raina from covers runs towards mid off and takes an excellent tumbling catch. Never easy these. A big wicket for the home side and they are pumped.  Kolkata Knight Riders 19/1 in 1.3 overs vs Chennai Super Kings in Chennai.
Celebrate it like @ImRaina 😎#CSKvKKR #VIVOIPL pic.twitter.com/dJfzD03yVv

— IndianPremierLeague (@IPL) April 10, 2018
20.06 IST: SIX! This is even bigger! What a start to this game. 18 from the first over. A similar delivery to the last one. Narine once again clears his front leg, this time he connects even better and sends it over the long on fence for a huge one.  KKR 18/0 in 1 over.
20.04 IST: SIX! Narine starts from where he left off in the last game. Off the mark with a biggie. Chahar lands it on a length around middle, Narine clears his front leg and smashes it over long on for a biggie. This is already turning out to be an expensive first over.
20.02 IST: Lynn gives KKR a flying start. One ball is all he needed as a sighter. He gets width outside off this time. Lynn loves it there as he slashes at it. The ball goes off the middle and over covers for a boundary. Kolkata are underway in style!
20.00 IST: We are all set for the game to begin. The players and the umpires make their way out to the middle. They are followed by the dynamic duo of Chris Lynn and Sunil Narine who are the openers for Kolkata.
19.58 IST: Kolkata Knight Riders Playing XI: Sunil Narine, Chris Lynn, Robin Uthappa, Nitish Rana, Dinesh Karthik(wk/c), Rinku Singh, Andre Russell, Vinay Kumar, Piyush Chawla, Tom Curran, Kuldeep Yadav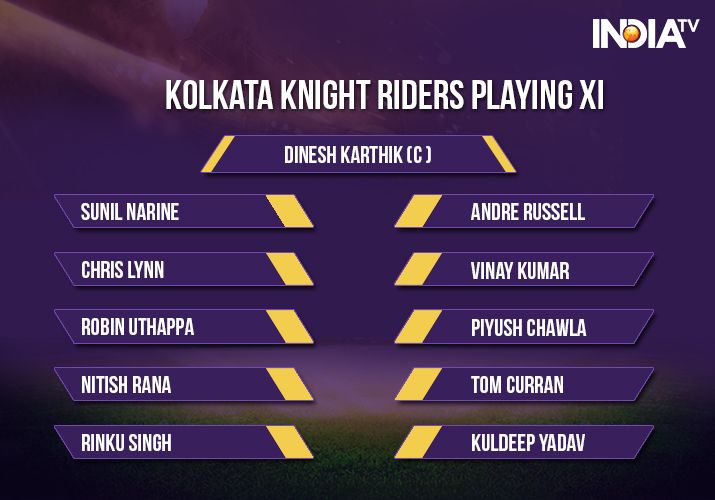 19.55 IST: Chennai Super Kings Playing XI: Shane Watson, Ambati Rayudu, Suresh Raina, Sam Billings, MS Dhoni(wk/C), Ravindra Jadeja, Dwayne Bravo, Deepak Chahar, Harbhajan Singh, Imran Tahir, Shardul Thakur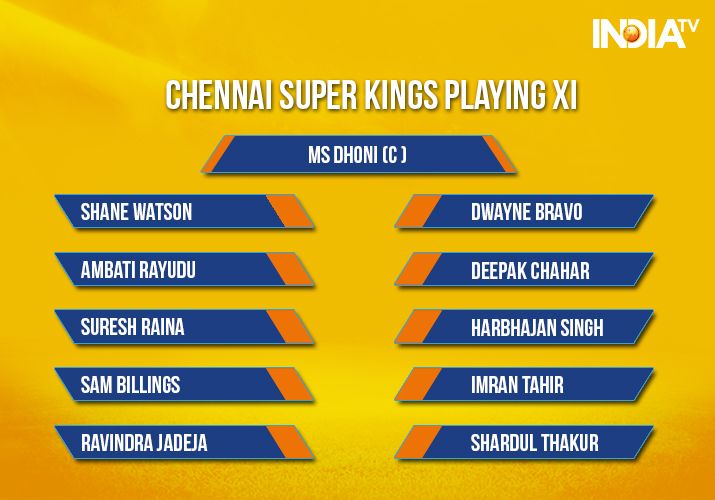 19.52 IST: "Toss is something we cannot control, so don't mind batting first here. I'm from Chennai and it's good to be here. Not many changes in the plan, some steady cricket and good aggression is what we are looking for. We have got one change. Tom Curran comes in for Mitchell Johnson," Karthik says at the toss.
19.50 IST: "We always like to chase whenever we get a chance. It's amazing. The fans have been waiting for the last two years. It's great to be back in Chennai. Few overs in the death and batting as a unit is something we are looking to improve. Overall, as a team, we would like to contribute. We have two changes. Shardul Thakur and Sam Billings come in for Mark Wood and Kedar Jadhav," says Dhoni after winning the toss.
19.45 IST: Chennai Super Kings win toss, opt to bowl against Kolkata Knight Riders in Chennai.
Whistles galore as captain @msdhoni wins the toss and elects to bowl first at the Chepauk Stadium#CSKvKKR #VIVOIPL pic.twitter.com/WKTzEA15z2

— IndianPremierLeague (@IPL) April 10, 2018
19.40 IST: The toss has been delayed. The captains are ready, the commentator for the toss is ready but the officials, apparently, aren't on ground yet.
19.37 IST: "There is even covering of grass. There's not going to be much spin. KKR have three high-quality spinners and so do CSK. Don't think it will spin much. 175-180 will be the par score here. Teams batting first win 75% of the games here. I'm not sure what teams will opt if they win the toss," Kevin Pietersen says after having a look at the pitch.
19.27 IST: Protests flared in Chennai on Tuesday as people demanding a Cauvery Management Board took to the streets against an IPL match to be played between Chennai Super Kings (CSK) and Kolkata Knight Riders (KKR). Even as the rival teams made it to the M.A. Chidambaram Stadium - popularly known as Chepauk Stadium - through the back gate, the complex turned into a fortress with the deployment of hundreds of police personnel, many in riot gear. (Read full story)
19.25 IST: MS Dhoni is back in his den after two years.
A sea of yellow at the Chepauk and whistles for @msdhoni, who's back in his den for their game against @KKRiders. #CSKvKKR #VIVOIPL pic.twitter.com/oSEGsVwCMZ

— IndianPremierLeague (@IPL) April 10, 2018
19.20 IST: "Playing in Chennai brings the best out of Sunil Narine. The numbers, well, they speak for themselves," claims Kolkata Knight Riders.
#MatterOfFact
Playing in Chennai brings the best out of our #Knight @SunilPNarine74. The numbers, well, they speak for themselves.#CSKvKKR #KKRHaiTaiyaar pic.twitter.com/VXYWzHUSPq

— KolkataKnightRiders (@KKRiders) April 10, 2018
19.10 IST: Even though the protests intensified in the city today against the conduct of IPL matches amid raging Cauvery demonstrations, fans came in to cheer CSK at MA Chidambaram Stadium.
The Den slowly turning yellow! #WhistlePodu #CSKvKKR #Yellove #CSKHomeComing pic.twitter.com/3dK4k0wvOF

— Chennai Super Kings (@ChennaiIPL) April 10, 2018
19.02 IST: CSK players are having fun warming up at MA Chidambaram Stadium.
The boys having fun warming up #WhistlePodu pic.twitter.com/gkMWNdQsE7

— Chennai Super Kings (@ChennaiIPL) April 10, 2018
18.50 IST: Here are the IPL teams for the 5th match between Chennai Super Kings and Kolkata Knight Riders.
Chennai Super Kings: MS Dhoni (C), Suresh Raina, Ravindra Jadeja, Faf du Plessis, Harbhajan Singh, Dwayne Bravo, Shane Watson, Kedar Jadhav, Ambati Rayudu, Deepak Chahar, KM Asif, Kanishk Seth, Lungi Ngidi, Dhruv Shorey, Murali Vijay, Sam Billings, Mark Wood, Kshitiz Sharma, Monu Kumar, Chaitanya Bishnoi, Imran Tahir, Karn Sharma, Shardul Thakur, N Jagadeesan
Kolkata Knight Riders: Dinesh Karthik (C), Chris Lynn, Robin Uthappa, Andre Russell, Nitish Rana, Sunil Narine, Kuldeep Yadav, Piyush Chawla, Kamlesh Nagarkoti, Shivam Mavi, Mitchell Johnson, Shubman Gill, Vinay Kumar, Rinku Singh, Cameron Delport, Javon Searless, Apoorv Wankhade, Ishank Jaggi, Tom Curran
18.45 IST: A rejuvenated and excited Chennai Super Kings will aim to dominate Kolkata Knight Riders in the presence of their die-hard fans when they play their first IPL home game in two years. For the legion of CSK fans, it will be a homecoming like no other as the 'Men in Yellow' will play at M A Chidambaram Stadium for the first time since May 2015. Their loyal supporters also turned up in huge numbers to watch them train. (Read Full Match Preview)