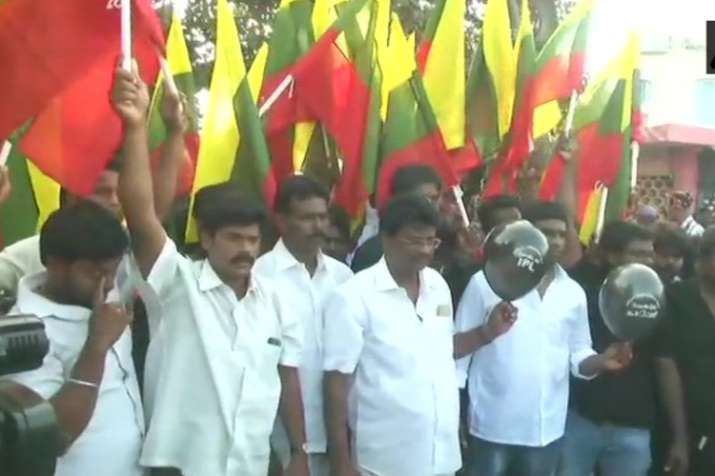 Workers of pro-Tamil outfit Tamizhaga Vazhvurimai Katchi (TVK), agitating over the Cauvery issue, protested outside the M A Chidambaram Stadium today ahead of the IPL match between Chennai Superkings (CSK) and Kolkata Knightriders (KKR), scheduled at 8 pm. 
The protesting TVK workers carried balloons stating – "We do not want IPL, we want Cauvery Management Board". 
A 4,000 strong posse of policemen has been deployed for security for the CSK-KKR tie, amid intensified opposition over the Cauvery issue. Flags and banners have been banned, with commandos and Rapid Action Force personnel forming part of the security for the tie.
Spectators would not be allowed to carry firecrackers, inflammable materials and firearms, besides bags, mobile phones, brief-cases, pagers, radios, digital diaries, laptops, computers, tape-recorders, binoculars, remote control devices, remote control car-keys or any other electronic devices, Taml Nadu Cricket Association said in a release.
The Tamil Nadu government, on its part, put the onus on the IPL governing body for conducting the matches.
The cricket board has been apprised of "our sentiments," Fisheries minister D Jayakumar said.
He said "it would be good" if the BCCI respected the sentiments and not conduct the match here but government would provide all support, including security, as per laid down guidelines.
Meanwhile, IPL Commissioner Rajeev Shukla said that the Tamil Nadu government and Chennai police have assured complete security. 
Tamil Nadu govt & Chennai police has assured that security will be provided. I met Home Secretary, who spoke to the DGP, gave instructions that full security should be provided to the spectators, players & no untoward incidents should not happen: Rajeev Shukla IPL Commissioner pic.twitter.com/29sHQa1oTA

— ANI (@ANI) April 10, 2018
Political parties and outfits have been demanding that IPL matches not be held at this time, saying the state is witnessing widespread agitations on the vexed issue.
Tamil film star Rajinikanth on Sunday said it would be good if organisers stopped the games in the city as such a gala event would be embarrassing when the entire Tamil Nadu was agitating.
Alternatively, he suggested Chennai Super Kings (CSK) team players play wearing black bands as a mark of expressing the anguish of people who have been staging protests demanding setting up of Cauvery Management Board.
Rajinikanth also appealed to the fans to wear dress in black while watching the matches here to extend their support to the stir.
Dhinakaran has appealed to the cricket fans to shun the matches scheduled to be held here in order to strengthen the voice of farmers' seeking CMB.