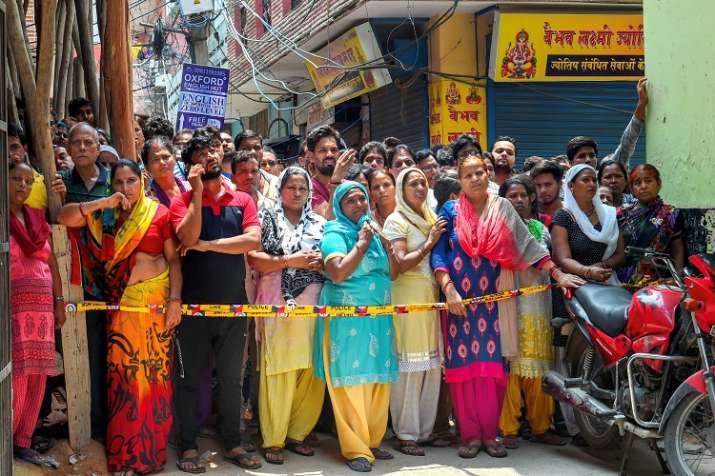 Relatives and close family friends of the 11 members of the family who were found dead under mysterious circumstances at their home in north Delhi's Burari on Sunday said that they suspected 'foul play' in the incident. They have also demanded an investigation by the Central Bureau of Investigation (CBI) into the same.
Ketan Nagpal, whose maternal grandmother was one of the deceased, alleged that they were killed and dismissed the police theory that it could be a case of "suicide pact".  
Another relative said they had spoken to the family last night. They sounded "normal" and did not show any signs of depression, he added. 
"The family did not have enmity with anyone. But we suspect someone killed them," he alleged. 
The relatives claimed that there was no "religious angle" linked to the deaths. 
"They believed in God but who believes in such things (referring to handwritten notes talking about salvation). They were educated people and not superstitious," said one of the relatives. 
Police found handwritten notes which indicated a "religious or spiritual angle" to the deaths. A police officer said a probe will be conducted to find "if the family indulged in occult practices" or they followed "any godman". 
ALSO READ| Burari case: 'Sabki soch ek jaisi honi chahiye', 10 notes hint at shocking reasons of 'family suicide'
"Coincidentally, these notes have strong similarity with the manner in which the mouths, eyes etc of the deceased were tied and taped. The same is being investigated further to establish its links with the deaths," a police official told news agency ANI.
Meanwhile, the case has been transferred to the crime branch for further investigation.
"Case has been transferred to us (crime branch) and we've inspected the site. Hand-written letters that have been recovered suggest spiritual angle to the deaths. Further investigation will reveal more," said Alok Kumar, Joint Commissioner Police (Crime).
The Crime Branch have started their probe into the case. According to CCTV footage, a delivery man came to the house to deliver food at 10:40 pm. No one came inside or went outside the house, before the local man who found the bodies in the morning. The Crime Branch will also interrogate family of the man whom one of the deceased was due to marry. Call Data Records of the family members & search history on the internet are being scrutinised.
ALSO READ| Burari case: Mystery on 11 deaths deepens, Delhi Police hints at 'spiritual, mystical practices' by whole family
The victims have been identified as Narayan Devi (77), her daughter Pratibha (57) and two sons--Bhavnesh (50) and Lalit Bhatia (45). 
Bhavnesh's wife Savita (48) and their three children--Meenu (23), Neetu (25) and Dhruv (15) were also found dead, police said, adding Lalit's wife Tina (42) along with their 15-year-old son Shivam was also among the dead. 
Pratibha's daughter, Priyanka (33), who had got engaged last month and was supposed to get married by the end of this year, was also found hanging on Sunday.
WATCH VIDEO: