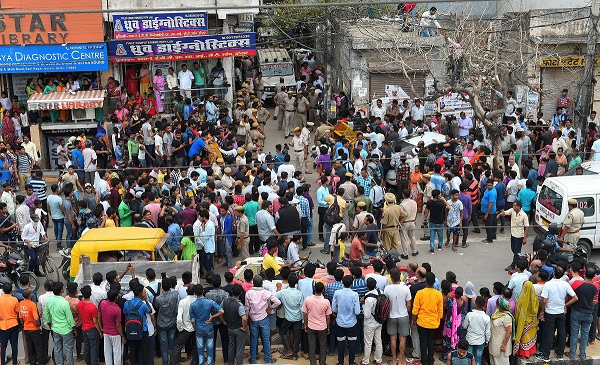 In a gruesome sight, 11 members of a family were found dead -- some blindfolded and hanging from an iron grill ceiling -- at their house in Delhi's Burari on Sunday, sending shockwaves across the national capital. 
Ten bodies were found hanging and blindfolded, while a 77-year-old woman's body was found on the floor. Two of the deceased are minors, police said. 
The mystery has further deepened with the latest revealation made by Delhi Police, hinting at "spiritual and mystical practices" by the entire family. 
During a search of the house, the police found certain handwritten notes pointing towards observance of some definite spiritual/mystical practices by the whole family. 
Coincidentally, these notes have strong similarity with the manner in which the mouths, eyes of the deceased were tied and taped. The same is being investigated further to establish its links with the deaths, police said.
A case of murder has been registered at Burari police station in the incident, police said, adding the case has been handed over to the Crime Branch. 
India TV spoke to the first person who spotted the bodies and informed the police, their neighbour Gurcharan Singh. He said that the family used to open their grocery store sharp at 6 am, today when the shop remained closed till 7:45 am, he went to check up on them at their first floor residence and found them dead. He said that he found 10 bodies hanging by dupattas, while the body of the 75-year-old woman was lying on the floor.  
The neighbours said that the family never disclosed any financial or familial troubles in the past. They had closed the shop at the usual 11:45 pm last night and did not show any signs of distress.
The victims have been identified as Narayan Devi (77), her daughter Pratibha (57) and two sons--Bhavnesh (50) and Lalit Bhatia (45). 
Bhavnesh's wife Savita (48) and their three children--Meenu (23), Neetu (25) and Dhruv (15) were also found dead, police said, adding Lalit's wife Tina (42) along with their 15-year-old son Shivam was also among the dead. 
Pratibha's daughter, Priyanka (33), who had got engaged last month and was supposed to get married by the end of this year, was also found hanging.
WATCH: Timeline of Burari case