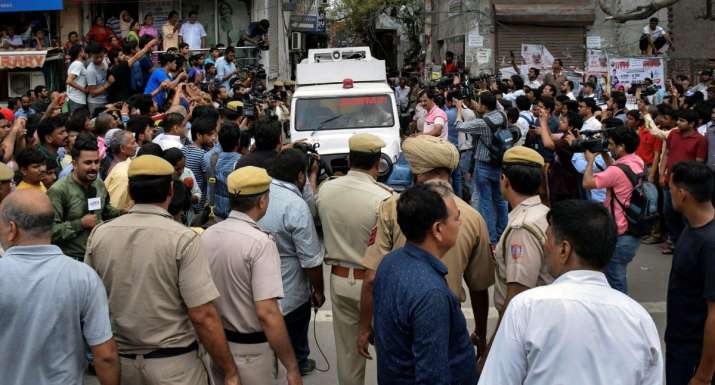 The police investigation into the mystery death of 11 members of a family in Delhi's Burari area has revealed some shocking secrets. During search of the house, certain hand written notes have been found which point towards observance of some definite spiritual/mystical practices by the whole family. 
These notes have strong similarity with the manner in which the mouths, eyes etc of the deceased were tied and taped. The same is being investigated further to establish its links with the deaths.
Also read | ​Burari case: Mystery on 11 deaths deepens, Delhi Police hints at 'spiritual, mystical practices' by whole family
Below are exact content of notes. They detail step by step acts which were to be performed to achieve salvation and they corroborate with scene of crime. 
1. Pattiyan achchhe se baandhni hai.. Shoonya ke alaawa kuch nahi dikhna chahiye.. Rassi ke saath sooti chunniyan ya sari ka prayog karna hai.. (Have to tie bandages tightly, nothing should be visible, use cotton duppatta or saree with ropes)
2. Saat din bad pooja lagataar karni hai.. thoda lagan aur shraddha se.. Koi ghar me aa jaaye to agle din.. (Have conduct pooja for seven days in a row, with dedication and devotion, if someone comes at home then next day)
3. Guruvaar ya ravivaar ko chunein.. (Choose Thursday or Sunday) 
4. Bebbe khadi nahi ho sakti to alag kamre me late sakti hain. (Mother cannot stand so she can lie down in another room)
5. Sabki soch ek jaisi honi chahiye.. Pehle se jyada dhridhta se.. Ye karte hi tumhare aage ke kaam dhridhta se shuru honge (Everyone should be in sync, with more determination than earlier, if you follow this next steps will start with determination)
6. Madhdham roshni ka prayog karna hai (Use dim light)
7. Haathon ki pattiyan bach jaaye to usey aankhon pe double kar lena.. (If there are spare bandages after tying hands, double the bandages on the eyes)
8. Muh ki patti ko bhi rumaal se double kar lena.. (Double mouth bandages with handkerchief)
9. Jitni dhridhta aur shraddha dikhaoge utna hi uchit phal milega. (Your dedication and devotion will reflect on the results)
10. Raatri ke 12-1 ke beech kriya karna hai. Uske pehle havan karna hai. (The ritual has to be performed between midnight 12 to 1, before that conduct a havan)
The police found the bodies of 10 family members hanging with bandages just as described in the notes, while the elderly lady was found on the floor. She had been strangled to death. The neighbours, who spoke to India TV, said that the family was religious but had never complained of any financial or social troubles in the past. 
The neighbours said that the family never disclosed any financial or familial troubles in the past. They had closed the shop at the usual 11:45 pm last night and did not show any signs of distress.
Also read | 11 members of a family found dead in a house in Delhi's Burari, Crime Branch to probe case
The victims have been identified as Narayan Devi (77), her daughter Pratibha (57) and two sons--Bhavnesh (50) and Lalit Bhatia (45). 
Bhavnesh's wife Savita (48) and their three children--Meenu (23), Neetu (25) and Dhruv (15) were also found dead, police said, adding Lalit's wife Tina (42) along with their 15-year-old son Shivam was also among the dead. 
Pratibha's daughter, Priyanka (33), who had got engaged last month and was supposed to get married by the end of this year, was also found hanging.
Watch video: 
Relatives dismiss religious angle, suspect foul play 
Meanwhile, a relative of the family suspected foul play in the incident, saying that "they were educated people and not superstitious".  Ketan Nagpal, whose maternal grandmother was one of the deceased, alleged that they were killed and dismissed the police theory that it could be a case of "suicide pact". 
He said it was a prosperous family. "They were not facing any financial issues and had not taken even a single loan. Everything was fine. Why would they kill themselves?" he said. 
Nagpal contended that even if they had to commit suicide, they would not have covered their faces and taped their mouth. 
Another relative said they had spoken to the family last night. They sounded "normal" and did not show any signs of depression, he added. 
"The family did not have enmity with anyone. But we suspect someone killed them," he alleged. 
The relatives claimed that there was no "religious angle" linked to the deaths. 
"They believed in God but who believes in such things (referring to handwritten notes talking about salvation). They were educated people and not superstitious," said one of the relatives. 
(With inputs from agencies)
WATCH: Timeline of Burari case