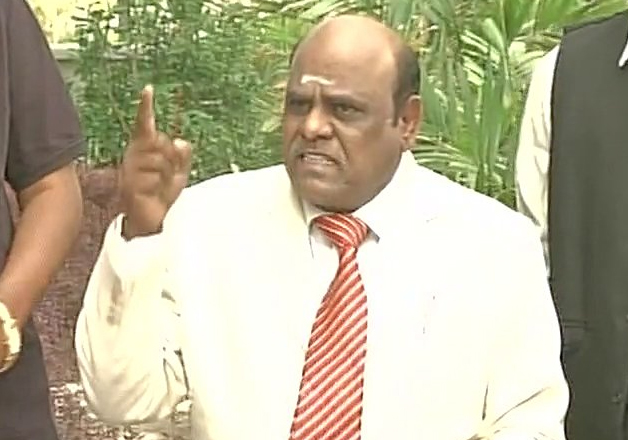 Hours after an arrest warrant was issued against him at the behest of the Supreme Court, serving Calcutta High Court Justice CS Karnan played the caste card and made it clear that he won't present himself before the top court.
At a press conference here, Karnan said that he will continue to operate his judicial power granted under the Constitution. 
"It is a caste issue, a Dalit judge prevented from doing work in a public office. That is atrocity," he said, adding that the SC order to issue a warrant was aimed at 'ruining his life and career'.
"It is just because of caste. Because I'm Dalit , I'm being targeted. Why not initiate action against Shantu Bhushan, only because he belongs to upper caste," he said.
He even charged the apex court of issuing the contempt notice without doing any enquiry and discussions. 
"I will continue to operate my judicial power," he said. "High Court is not inferior to the Supreme Court. The SC is not a master and High Court is not a slave."
Karnan also sought President Pranab Mukherjee's intervention into the matter. 
"Requesting the President to put a stay on the available warrant. All recall the order given by the seven bench judges," he said.
He went on to claim that there are evidences available in the registry of the Madras High Court regarding involvement of judges in corrupt practices. 
"This issue is a national issue. I made representation to Prime Minister stating that some judges committed illegal activities. Evidences are available in the registry of Madras HC," he said.
Earlier this morning, in an unprecedented order, the Supreme Court issued an arrest warrant against Karnan to ensure his presence before it on March 31 in a contempt case. 
"There is no other alternative to seek presence of Shri Justice CS Karnan. We issue bailable warrants of the sum of Rs 10,000 in the nature of personal bond to the satisfaction of the arresting officer," a seven-judge bench headed by Chief Justice JS Khehar said. 
The bench also directed the West Bengal Director General of Police to personally execute the arrest warrant on Justice Karnan to ensure his presence before it on March 31, the next date of hearing. 
The apex court had on February 8 asked Justice Karnan to appear in person and explain why contempt proceedings should not be initiated against him. It had restrained him from undertaking judicial and administrative work. However, Justice Karnan failed to appear before the apex court on February 13. 
Justice Karnan was transferred from the Madras HC to the Calcutta HC for his alleged contemptuous conduct. He had on February 15, 2016 stayed his transfer order after the apex court asked the Chief Justice of Madras High Court not to assign any judicial work to him. 
The same day the apex court had suspended Justice Karnan's order and made it clear that all administrative and judicial orders passed by him after the issuance of the proposal of his transfer from the Madras High Court to the Calcutta High Court shall remain stayed till further orders.