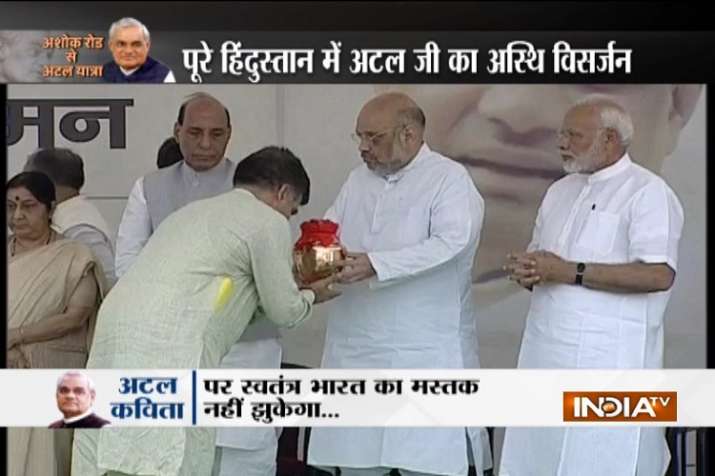 Bidding final goodbye to Atal Bihari Vajpayee, who along with Lal Krishna Advani founded the Bharatiya Janata Party (BJP), the party leadership on Wednesday handed over urns carrying the former prime minister's ashes to presidents of all states and union territories. The BJP has decided to take out 'asthi kalash yatras' in all districts and immerse the ashes in rivers across the country.
PM Narendra Modi, BJP president Amit Shah handed over 36 urns with Vajpayee's ashes to party leaders at a function held at the party's old office at 11 Ashoka Road in New Delhi. Vajpayee's foster daughter Namita Bhattacharya, Home Minister Rajnath Singh and External Affairs Minister Sushma Swaraj along with other party leaders and workers were present during the occasion.
The BJP had earlier decided to immerse Vajpayee's ashes in 18 rivers across Uttar Pradesh. However, the ruling party later said that the late statesman's ashes will be sent to every state to be immersed in 100 rivers across the country.
प्रधानमंत्री श्री @narendramodi, भाजपा राष्ट्रीय अध्यक्ष श्री @AmitShah, गृह मंत्री श्री @rajnathsingh, विदेश मंत्री श्रीमती @SushmaSwaraj ने सभी राज्यों के प्रदेश अध्यक्षों को स्वर्गीय श्री वाजपेयी जी का अस्थि कलश सौंपी। #AtaljiAmarRahen https://t.co/ujPr0qStg6 pic.twitter.com/APjVFvcheu

— BJP (@BJP4India) August 22, 2018
"The immersion of his ashes in various rivers of the country will be an apt tribute to him," UP BJP vice-president JPS Rathore had said while describing Atal Bihari Vajpayee as a leader who was respected across the social and political spectrum. 
Atal Bihari Vajpayee died on August 16 at Delhi's All India Institute of Medical Sciences (AIIMS) after prolonged illness. He was 93.
WATCH: Vajpayee's ashes to be immersed in 100 rivers across India