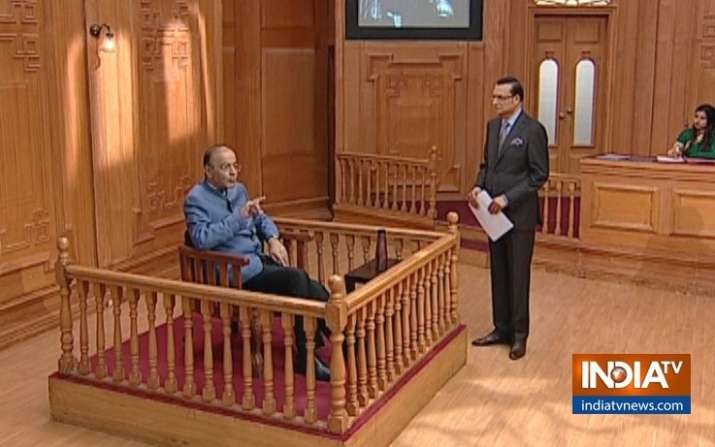 Opposition leaders who are making statements and raising doubts about Indian Air Force's preemptive strike against JeM terror camps may be garnering TRPs for Pak media channels but will have to face nation's wrath domestically, Union Minister Arun Jaitley said on Saturday. Talking to India TV Chairman and Editor-In-Chief Rajat Sharma, Jaitley said that Pakistan attains its strength from those who reside in India but give statements that support the Imran Khan-led country.
"It is unfortunate that Pakistan is backed by those who give statements against our operations, without understanding them," he said. 
Also read | 'India has exposed Pakistan's nuclear bluff by carrying out air strikes', Finance Minister Arun Jaitley tells Rajat Sharma in Aap Ki Adalat
"These parties and leaders should know that operational details of the armed forces are never shared. It is unfortunate that some of our opposition leaders are indulging in foolish politics. They are unknowingly becoming witnesses for the Pakistan government. I feel, people of India will teach them a lesson for raising the TRPs of Pakistani news channels which are telecasting their statements. And these leaders will have to face the wrath of the people in India."
He said, "Nowhere in the world, any army or air force shares its operational details in public. The US carried out attack in Abbotabad (Pakistan), killed Al-Qaeda chief Osama bin Laden, took his body away and threw it into the ocean. No operational details were shared."
Also read | Arun Jaitley on Aap Ki Adalat: Unfortunate that Pakistan drawing strength from those who question our operations
Hitting out at Congress leader Kapil Sibal who had questioned the success of the IAF air strike, Jaitley said: "It is unfortunate that such leaders are in public life. Does any army in the world ever shares its operational details? If we share operational details, not only Kapil Sibal, but Pakistan will come to know about them, as to how many aircrafts took part, what were the bombs used, and from where did the aircrafts struck."
'Aap Ki Adalat' show with Finance Minister Arun Jaitley was telecast on Saturday at 10 pm on India TV. The show will also be telecast tomorrow Sunday at 10 am and 10 pm. 
Also read | Arun Jaitley in Aap Ki Adalat: Full Highlights
​