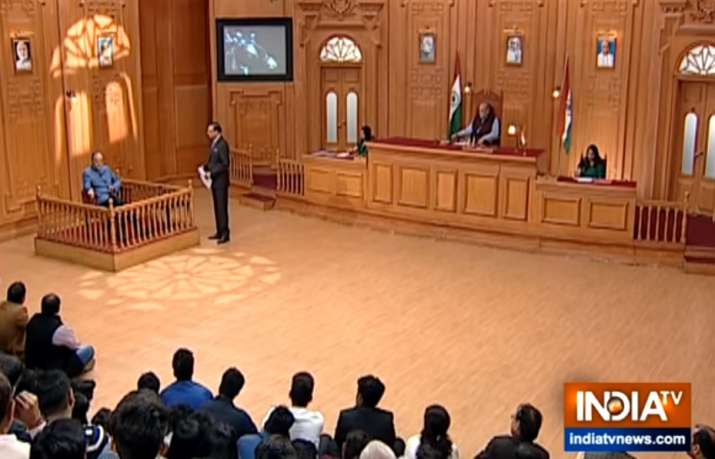 Finance Minister Arun Jaitley today said that by carrying out successful air strikes against Jaish-e-Mohammed terror camp inside Pakistan, "India has exposed Pakistan's nuclear bluff".
Replying to questions from Rajat Sharma in his show "Aap Ki Adalat", to be telecast on tonight at 10 pm on India TV, Jaitley said: "India fought and won conventional wars against Pakistan in 1965, 1971 and during the Kargil conflict. Since then, Pakistan's army had realized that because of India's huge economy and superior military strength, conventional wars cannot be won against India. 
"The Pakistani army then chose two options: one, a proxy war with the help of terrorists, and two, hold out a nuclear bluff, since both countries are armed with nuclear weapons. Nuclear bluff was their second option, and this time it has been exposed. 
"Our present Prime Minister has taken our policy vis-a--vis Pakistan a bit further. Till now, Pakistan's policy was to send terrorists to carry out attacks, but our policy was only defensive. Modi Ji has brought a small change in that policy. We shall now continue to defend, but will attack the main sources of terrorism. The surgical strike was our first step, and the air strikes were the second. 
"A misunderstanding was being created about not crossing the Line of Control or international border. This time, the world powers supported us when our air force struck at the Jaish terror camp. Not only  US, UK, Europe and Russia, but even China gave a neutral statement. 
Jaitley hit out at opposition parties for demanding evidences about Jaish terrorists killed in the IAF air strikes at Balakote inside Pakistan. 
"These parties and leaders should know that operational details of the armed forces are never shared. It is unfortunate that some of our opposition leaders are indulging in foolish politics. They are unknowingly becoming witnesses for the Pakistan government.  I feel, people of India will teach them a lesson for raising the TRPs of Pakistani news channels which are telecasting their statements. And these leaders will have to face the wrath of the people in India."
( Mujhe lagta hai ki janta inka woh haal karegi ki Pakistan ke TV me inko TRPs milegi aur Hindustan me janta ka aakrosh bardasht karna hoga) 
He said, "Nowhere in the world, any army or air force shares its operational details in public. The US carried out attack in Abbotabad (Pakistan), killed Al-Qaeda chief Osama bin Laden, took his body away and threw it into the ocean. No operational details were shared."
Hitting out at Congress leader Kapil Sibal who had questioned the success of the IAF air strike, Jaitley said: "It is unfortunate that such leaders  are in public life. Does any army in the world ever shares its operational details? If we share operational details, not only Kapil Sibal, but Pakistan will come to know about them, as to how many aircrafts took part, what were the bombs used, and from where did the aircrafts struck."
Jaitley pointed out that it was the Pakistani army, and not its civilian government which first broke news about the air strike. "The air strikes were over by 4 am, and at 4.45 am, the Pakistani army spokesman tweeted that Indian aircraft violated their air space and struck using 1000 kg payloads but were forced to flee.
"There are two plausible reasons, why the Pakistani army first broke the news. 
"First, the Pakistani army had created a big aura about its prowess among Pakistanis, and it did not want its image to be dented. That is why they tweeted that Indian aircrafts came, dropped 1000 kg payloads on an open area and fled.
"The second reason is more vital. Had the Pakistani army admitted about IAF aircraft crossing into its air space and bombing its buildings, the first questions that would have been asked were: What was the extent of damage? Experts would have come to survey, and if they had found these buildings, with swimming pool, gymnasium, training ground, they would have asked who were the people staying inside? Pakistan would then have to reveal the names of scores of Jaish commanders, the old and new fidayeen who died inside."
"And look at the consequences. The UN Security Council is now going to impose sanctions against Jaish-e-Mohammed, and the FATF (Financial Action Task Force) has put Pakistan in the 'grey list'. An FATF sanction means, companies and entities from other countries can no more invest money in Pakistan. In order to hoodwink both the UNSC and FATF, Pakistan is carrying out a charade of banning JeM and Jamaat-ud-Dawah and sealing their offices and madrasas."
 
Jaitley said, "there was no question of talks with Pakistan unless it takes decisive action against terror outfits on its soil. This action should be visible to the world and Pakistan should give evidences. We will then think what to do next. But there is no point in calling for talks now."
On former Supreme Court judge Markandey Katju praising Pakistan PM Imran Khan on a Pakistani news channel, Jaitley replied: "This is the consequence of giving powers to the judiciary on the issue of appointment of judges. An accountable government has been kept out of the system. This exposes the weaknesses of the system of judicial appointments, which the Supreme Court has now adopted. Such statements (by Katju) reveals his mindset."
On 29 opposition parties adopting a joint statement alleging "politics of martyrdom" (shahaadat ki siyaasat), Jaitley said: "This was the first time I saw, more than a lakh mourners congregating in most of the villages to pay respects to the martyrs at their funerals. Millions of Indians watched these visuals on news channels with tearful eyes. Was it politics in which people were indulging? 
"The entire nation, and our army was worried. Our intelligence agencies gave us verified info about Jaish terrorists gathering at Balakote, and what if our government did not act on that info? Would that have been good politics? It would have been a crime against the nation, had the government decided not to strike. 
"It was the Prime Minister who took the decision that our aircraft will enter their air space and destroy the camps. The joint statement by 29 opposition parties about 'politics of martyrdom' was played as the lead story on Pakistani news channels."
'Aap Ki Adalat' show with Finance Minister Arun Jaitley will be telecast tonight at 10 pm on India TV. The show will also be telecast tomorrow Sunday at 10 am and 10 pm.