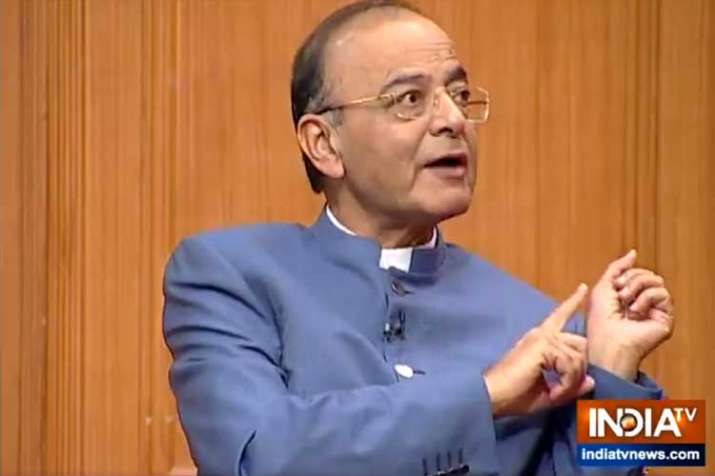 Today's guest on India TV Editor-in-chief Rajat Sharma's iconic show is Union Minister Arun Jaitley. During the show, Rajat Sharma grilled Arun Jaitley over Indian Air Force air strike in Pakistan, Rafale deal, among other key issues. 
The repeat telecast will be aired Sunday morning at 10 am and at night at 10 pm. 
Also read | 'India has exposed Pakistan's nuclear bluff by carrying out air strikes', Finance Minister Arun Jaitley tells Rajat Sharma in Aap Ki Adalat
Aap Ki Adalat LIVE Updates: 
#On allegation that Modi govt mishandled Kashmir issue: Replying on a question about Mehbooba Mufti's claim that Kashmir issue can only be resolved only after talks, Union Minister Arun Jaitley told India TV's Editor-in-chief Rajat Sharma that there is no use of engaging in peace talks with Pakistan unless they take decisive action against terrorism and show the world its proof. 
#On 29 Opposition parties' statement on IAF strike: It was the Prime Minister who took the decision that our aircraft will enter their air space and destroy the camps. The joint statement by 29 Opposition parties about 'politics of martyrdom' was played as the lead story on Pakistani news channels: Arun Jaitley
#On former Supreme Court judge Markandey Katju praising Pakistan PM Imran Khan on a Pakistani news channel: Jaitley said: "This is the consequence of giving powers to the judiciary on the issue of appointment of judges. An accountable government has been kept out of the system. This exposes the weaknesses of the system of judicial appointments, which the Supreme Court has now adopted. Such statements (by Katju) reveals his mindset."
#On misconception about diplomatic isolation after action against Pakistan: Union Minister Arun Jaitley today said that the previous governments lived in fear that if India took any action against Pakistan then it will have to face an international backlash. But, today, India has the diplomatic strength to strike against Pakistan and also bring back IAF pilot who fell in Pak territory back within 48 hours.  
#On India calling Pakistan's nuclear bluff: India fought and won conventional wars against Pakistan in 1965, 1971 and during the Kargil conflict. Since then, Pakistan's army had realized that because of India's huge economy and superior military strength, conventional wars cannot be won against India. The Pakistani army then chose two options: one, a proxy war with the help of terrorists, and two, hold out a nuclear bluff, since both countries are armed with nuclear weapons. Nuclear bluff was their second option, and this time it has been exposed: Arun Jiatley in Aap Ki Adalat.
Also read | Arun Jaitley on Aap Ki Adalat: Unfortunate that Pakistan drawing strength from those who question our operations
#On Imran Khan's allegation that India is trying to impose war: Speaking to India TV's Editor-in-chief Rajat Sharma in Aap Ki Adalat, Union Minister Arun Jaitley said that Imran Khan was known as Taliban Khan by his old rivals. If Imran Khan is really against terrorism then he should welcome India's action against terrorists living on Pak soil, he added. 
#On Digvijay Singh's claim of no damage to JeM camp: Digvijay Singh is among the leaders who said that terrorists killed in Batla House encounter were innocent and martyr Delhi Police officer was the culprit. He was among the Congress leaders who questioned death sentence to Ajmal Kasab, Arun Jaitley said in Aap Ki Adalat. 
#On Opposition leaders favouring Pak narrative: Speaking to India TV's Editor-in-chief Rajat Sharma in Aap Ki Adalat, Arun Jaitley said that opposition leaders who are making statements and raising doubts about Indian Air Force's preemptive strike against JeM terror camps may be garnering TRPs for Pak media channels but will have to face nation's wrath domestically. "These parties and leaders should know that operational details of the armed forces are never shared. It is unfortunate that some of our opposition leaders are indulging in foolish politics. They are unknowingly becoming witnesses for the Pakistan government," he said.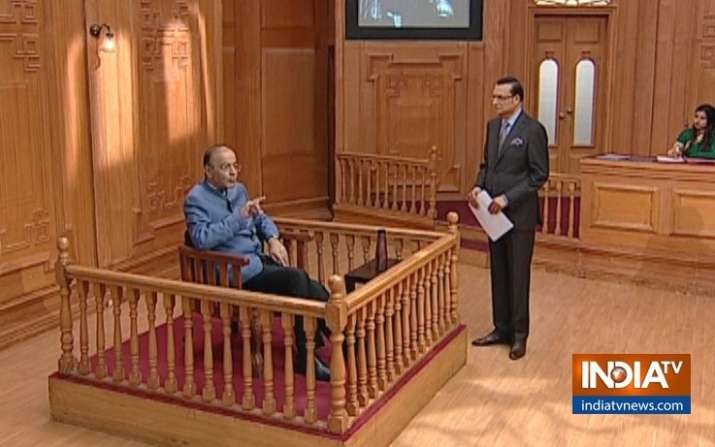 #On Opposition allegations: Pakistan attains its strength from those who reside in India but give statements that support the Imran Khan-led country, Union Minister Arun Jaitley said on Saturday. Talking to India TV Chairman and Editor-In-Chief Rajat Sharma, Jaitley said, "It is unfortunate that Pakistan is backed by those who give statements against our operations, without understanding them."
#On why Pakistan first broke the news of IAF strike: Giving the reasons why Pak Army chose to break the news of IAF strike on its soil, Union Minister Arun Jaitley said they were possibly trying to twist the narrative and avoid international scrutiny of destroyed terror camps. 
#On no proof of damage to JeM camps by IAF: Nowhere in the world, any army or air force shares its operational details in public. These politicians who are asking for proof say they are with Indian Air force, but they do not believe his statement that they hit the intended targets, you cannot expect IAF to stop and count the casualties or ground intelligence to go back to count dead bodies while Pak Army has taken over the site of attack.