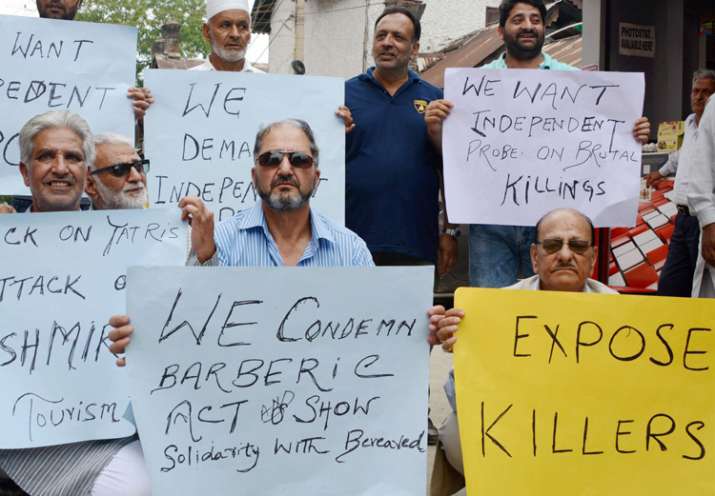 The international community on Tuesday stood united in condemning the horrific attack on Amarnath Yatra pilgrims with nations promising to stand by India in the fight against terrorism. While the United States said it deplores the strike, India's neighbour Bangladesh pledged to work with New Delhi in fighting extremism. 
Here is what nations around the world said in solidarity with India after terror attack on Amarnath Yatra:
Unites States
"We deplore the attack on #Amarnath pilgrims & condemn all acts of terrorism. Deepest condolences to the families & all those affected," the US ambassador's official Twitter handle posted. 
The US has appointed Kenneth I Juster as its ambassador to India, but he is yet to take office. 
Germany
In a message, German Ambassador Martin Ney said, "On behalf of the Government of Germany, I strongly condemn yesterday's terrorist attack in Jammu & Kashmir. Seven Amarnath yatris lost their lives and more than a dozen were wounded." 
Conveyed deepest condolences to the families of the victim, Ney said, "Germany resolutely stands by India in the fight against terrorism and extremism.". 
"As the G20 leaders just reaffirmed in Hamburg, we are resolved to tackle terrorism as a common challenge to the global community," he noted. 
France
France condemned the attack and assured solidarity in face of terrorism.
"France condemns the attack that on 10th July claimed the lives of several pilgrims who were travelling to the Amarnath shrine. We convey our condolences to the families of the victims and wish a speedy recovery to the injured. France assures the people and authorities of India of its solidarity in face of terrorism," a statement by the Spokesperson of the Ministry of Europe and Foreign Affairs said. 
Nepal
Foreign Affairs Ministry, in a release, strongly condemned the terrorist attack and expressed its condolences. 
"The government of Nepal strongly condemns the terrorist attack on the bus carrying pilgrims from Amarnath in Indian state of Jammu and Kashmir Anantnag District that resulted in the loss of lives of seven innocent yatris and injury to others. The Government of Nepal expresses deep condolences and sympathies to the bereaved family members and wishes for the speedy recovery of those inured," the statement said. 
Bangladesh
Prime Minister Sheikh Hasina denounced the "dastardly" terror attack and reaffirmed Bangladesh's pledge to work with India in fighting extremism. 
"I am deeply shocked to learn about the dastardly terror attack on a bus carrying pilgrims to Amarnath in Jammu and Kashmir that killed several pilgrims, including women, and injuring many others on Monday," she said in a letter sent to Prime Minister Narendra Modi. 
She added, "As a close friend and neighbour, we would continue to work together in our common endeavour to eradicate this menace from this region and beyond" as Bangladesh maintains "zero tolerance" policy against terrorism and violent extremism "in all forms and manifestations, and condemns such heinous acts".