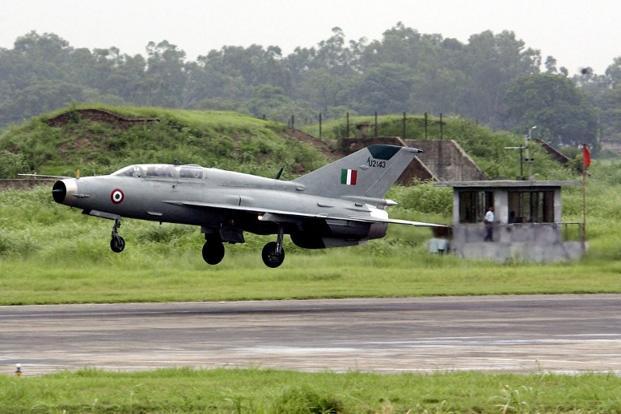 For a country that features among the world's top five defence spenders, armed forces personnel losing lives in crashes and malfunctioning machines is a stark irony. 
A total of 48 military aircraft and 21 helicopters were lost to crashes since 2011 in which 79 people were killed, the government told Lok Sabha today. 
Replying to a question, Minister of State for Defence Subhash Bhamre said all such incidents and accidents are thoroughly investigated and preventive actions taken based on probe reports. 
The figures bear a stark reminder to a report by a Parliamentary panel that slammed the 'ad-hocism', and the 'casual and lackadaisical' approach of the government in allocating inadequate amounts for the Defence budget.
The Parliamentary Standing Committee on Defence said that the meagre allocation will hit the modernization plans and dent India's defence preparedness as well as the morale of the armed forces.
Highlighting the plight of the armed forces with regard to capacity addition, the panel, led by BC Khanduri, noted that the Army received only 60 per cent of the funds it had sought for modernisation in the 2017-18 budget.
The Navy and IAF, in turn, got 67 per cent and 54 per cent respectively.
Also read: China hikes its defence budget to Rs 10 lakh cr, thrice that of India
Out of the total defence outlay of Rs 2.74 lakh crore, only Rs 86,488 crore has been earmarked for modernization, with the bulk of this capital outlay set to go into payment of "committed liabilities" of earlier arms contracts and not for new projects.  
The Navy, for example, has been allocated Rs 18,000 crore as the capital budget against a committed liability of Rs 22,000 crore for 2017-18.
Contrary to its plans to be a 212-warship and 458-aircraft force by 2027, the Navy is currently managing with just 138 warships and 235 aircraft at present, with most of them ageing.
On the Indian Air Force, the Committee talked about pending contracts relating to Rafale fighter aircraft, Medium Lift Helicopter Upgrade, Transport Aircraft along with Associated Equipment as Avro Replacement, Additional Mi-17 V5, Manoeuvrable Expendable Aerial Targets (MEAT) and Weapons for Advance Light Helicopters etc.
The IAF too is down to just 33 fighter squadrons against a minimum requirement of 42-44 to tackle the threat from China and Pakistan.
The committee said the number of squadrons will go down to 19 by 2027, with the progressive retirement of MiG-21s, MiG-27s and MiG-29s, and may further reduce to 16 by 2032.
Bhamre today said in Parliament that there were plans to utilise Light Combat Aircraft Tejas as a flying test bed to design and develop a stealthy unmanned combat aerial vehicle. 
He said the Hindustan Aeronautics Ltd has undertaken a feasibility study to convert Chetak helicopter into an unmanned technology demonstrator. 
The Aeronautical Development Agency (ADA) has also planned to develop a futuristic stealth combat drone. 
Defence Minister Arun Jaitley, replying to another query, said the ADA is also developing MK-II version of LCA for the Navy with a higher thrust engine than the one used in MK-I version of Tejas. 
"Final Operational Clearence (FOC) of LCA (Navy) MK II is likely to be obtained by 2023 for induction in Indian Navy and FoC for Air Force MKII is likely to be obtained by December 2025," he said. 
Replying to a separate query, Bhamre said Indian Navy has decommissioned 11 ships since January 2015. 
The Minister said no incident of Indian UAV having been shot down by Pakistan has taken place.