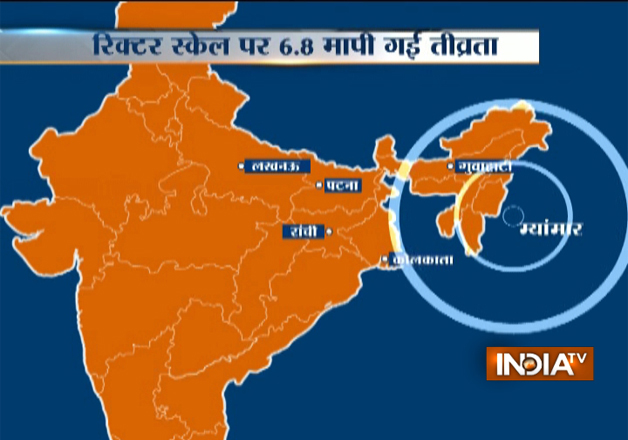 Earthquake measuring 6.8 on the richter scale today jolted Myanmar and northeast part of India. Tremors were also felt in Patna, Guwahati, Kolkata and Lucknow.
There were no reports of any major damage so far.
According to US Geological Survey (USGS), the quake struck 143 km (88 miles) west of the city of Meiktila at a depth of 84 km (52 miles).
The quake shook buildings in buildings in Myanmar's biggest city of Yangon and in other towns and cities, witnesses said. The quake was also felt in Bangladesh.
Yesterday also, an earthquake measuring 5.3 on the richter scale jolted Myanmar, neighbouring Bangladesh and parts of the region. Tremors were also felt in Assam, Tripura, Mizoram, Meghalaya and some other parts of northeast India, but there was no report of damage.
M6.8 #earthquake 25km W of Chauk, Burma https://t.co/yrxPEVpywp pic.twitter.com/S6chdqD7Fm

— USGS (@USGS) August 24, 2016
The epicentre of the earthquake was determined 57 km from Khampat, Myanmar (Burma), which hit the region at 7.41 a.m., the US Geological Survey said.
Seismologists consider India's mountainous northeast region as the sixth major earthquake-prone belt in the world.
The northeast has seen some of the biggest quakes in history. In 1897, the Shillong-epicentred quake measured 8.2 on the Richter scale.
In 1950, an earthquake in Assam measuring 8.7 on the Richter Scale forced the mighty Brahmaputra river to change its course. In September 2011, Sikkim underwent heavy damage after a quake hit the Himalayan state.