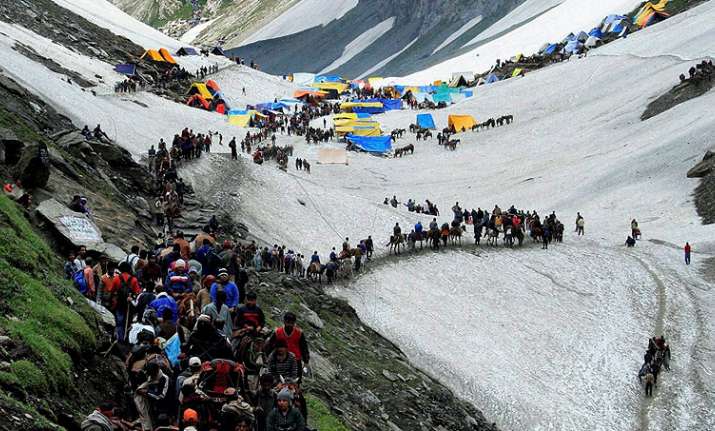 New Delhi: Registration for this year's Amarnath Yatra that begins on July 2 has opened and the pilgrims will now be busy with the process of booking a place for themselves.
The permission for undertaking the pilgrimage will be given on first-come-first-serve basis.
Only the designated branches of the listed banks across the country will register pilgrims.
To make it easy for millions of the Yatris, we have compiled a list of important things that one must know in order to be a part of this Yatra:
Registration
An Application Form along with a Compulsory Health Certificate (CHC) is to be submitted to obtain the Yatra Permit, which is compulsory for every Yatri.
Both the above mentioned documents are available free of cost to the applicant -- yatri — by the designated bank branches.
Where to go
A Yatri can avail these documents from the designated branches of Punjab National Bank, Jammu and Kashmir Bank and Yes Bank.
Every branch has been allotted a fixed quota per day, per route quota for registering pilgrims.
Documents required
The list of documents required for the application process include:
1- Filled-in prescribed Application Form
2- Prescribed CHC issued on or after February 10, 2016, by an authorised medical institution
3- Four passport sized photographs
Terms and Conditions
The Yatri Permit will only be received after making a payment of Rs 50.
Also, one permit will be valid for one person.
Only the CHCs issued by authorised doctors/medical institutions will be taken in account. The list of those doctors/medical institutions is available on the shrine board's website - www.shriamarnathjishrine.com.
Do's
Pilgrims have to purchase pre-activated sim cards at the base camps of Baltal and Nunwan as the pre-paid sim cards from other states will not work in Jammu and Kashmir and yatra area.
Women pilgrims should come in salwar kameez, pant-shirt or a track suit.
Dont's
All those below the age of 13 years or above 75 years and woman with more than six week's pregnancy shouldn't register for the pilgrimage.
Women pilgrims must not wear sarees during the yatra.
For any further pilgrimage-related information, people can seek help on -- 01912503399 and 01912555662 (Jammu) and 01942501679, 01942591821 (Srinagar).