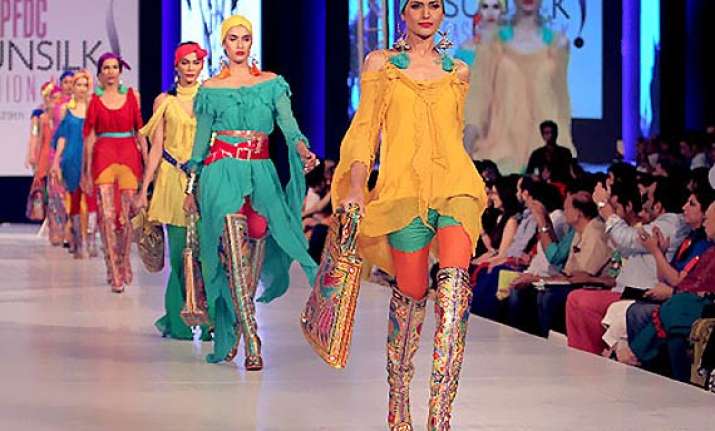 Lahore, Already known for the grandeur of his bridal designs and couture range, designer Rizwan Beyg went a notch above at the final day of PFDC Sunsilk Fashion Week 2014 Sunday as he showcased a collection that had everything a modern woman wants in her closet - glamorous and sensual but at the same time, wearable.
Beyg, who showcased for the second consecutive time at Pakistan Fashion Design Council (PFDC) Sunsilk Fashion Week, modernized the basic idea of truck art with his collection. 
Having previously shown a collection similarly inspired in the previous edition of the fashion gala, Beyg has worked closely with original truck artists to create a line of clothing using ethical practices for his label's latest collection. 
His latest range of digitally printed affordable line had some of the elegant prints keeping the basic essence of truck art at the forefront. 
Showcasing a vibrant colour palette, Beyg employed the concept of flora and fauna using funky and trendy silhouettes that comprised of bell-bottoms, flirty ruffle skirts, tailored jackets, jeans, off-shoulder fun tops, classic sari and 1970's signature wedges. 
Not only for women, the collection also had menswear pieces comprising of jackets, hoodies and jeans that were ideal for a night out with friends or a romantic evening with your partner. 
His name synonymous with high quality Pakistani fashion, Beyg was the first Pakistani fashion designer who introduced printed and designer's voile which were fashionable while being practical and affordable too. 
His creations have been worn by luminaries such as the late Princess Diana, Princess Sarvath of Jordan, Jemima Khan, Cherie Blair and others. He specializes in creating bridal wear, prêt a porter and couture for both men and women.