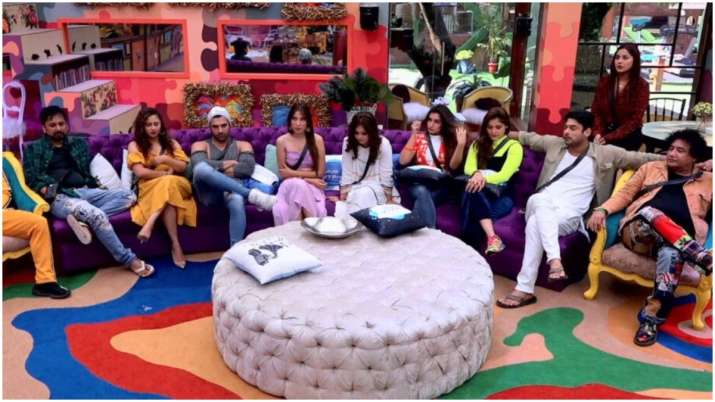 Bigg Boss wasn't happy with the Toy Factory game and said the performance of the housemates was 'wahiyat' and 'bakwas' in the last episode of Bigg Boss 13. In tonight's BB 13 episode, Bigg Boss will introduce a major twist and reveal the most dreaded part of the game, the dreaded jail. Which contestant will be the first one to be locked up in the Bigg Boss jail? Watch Live updates right here:
Here are the Highlights for Bigg Boss 13 October 17 Day 18 Episode
11; 20 pm: Shehnaaz jokes that she is feeling scared with Sidharth's behaviour as the actor punched the walls. Rashami says that she might be feeling guilty that she was supposed to be locked up in jail and not Sidharth in the first place.
11: 15 pm: Sidharth Shukla and Shehnaaz enter Bigg Boss 13 jail. Sidharth complains that it's too hot inside the jail and asks Bigg Boss for a fan. He is seen getting irritated and conveys the same to Arti Singh.
11: 10 pm: Sidharth Shukla goes to the confession room and tells Bigg Boss that he is very upset with Rashami's accusations and says that it's all rubbish. Rashami, on the other hand, tells Mahira that she is puzzled with Sidharth's behaviour.
11: 05 pm: Sidharth Shukla and Shehnaaz Gill are locked up in the house after much discussion. 
Jail ka udghaatan hua mujrim #ShehnaazGill aur @sidharth_shukla ke saath! @BeingSalmanKhan @Vivo_India #BB13 #BiggBoss13

— COLORS (@ColorsTV) October 17, 2019
11: 00 pm: Bigg Boss asks Devoleena as to who have they chosen to get locked up in the BB house. Devoleena says Rashami and Shehnaaz but Rashami interrupts and says she doesn't agree with the result. Once again, the housemates give the names of two contestants who deserve to be put behind the bars.
10: 55 pm: Rashami also barges in and claims that Sidharth is targeting her.
10: 50 pm: Bigg Boss asks the contestants to unanimously give the names of two contestants who deserve to be put behind the bars. Paras says that Sidharth Shukla should be put in jail as he does not take any responsibility of the house. Sidharth also gets agitated and hits back at Paras calling him a weakling. 
10: 45 pm: Housemate s wake up to What is Mobile Number song.  Paras tells that Bigg Boss jail has been introduced in the garden area. The housemates are quite shocked. Shehnaaz and Rashami discuss as to who they will name for BB jail task. Rashami at once says that she will take Sidharth Shukla's nice.
10: 40 pm: Devoleena expresses her concern over Sidharth's behavior to Paras and says that she expects him to understand her point of view. Rashami Desai breaks down once again. Paras and Devoleena express concern.
10: 35 pm: Siddhartha Dey and Rashmi get into a deep conversation discussing Sidharth Shukla's behavioral issues. Rashmi claims that she has always seen the worst side of Sidharth Shukla personally and professionally.
10: 30 pm: Paras Chhabra and Sidharth Shukla lock horns over household duties. While Sidharth feels that everyone should carry out their duties diligently, Paras wants the housemates to lighten the burden on the team by washing their own utensils
.@sidharth_shukla ke gusse se hai gharwale upset, sab bhejna chahte hai unhe jail! @BeingSalmanKhan @Vivo_India #BB13 #BiggBoss13 pic.twitter.com/kJFi6ZzK02

— COLORS (@ColorsTV) October 17, 2019