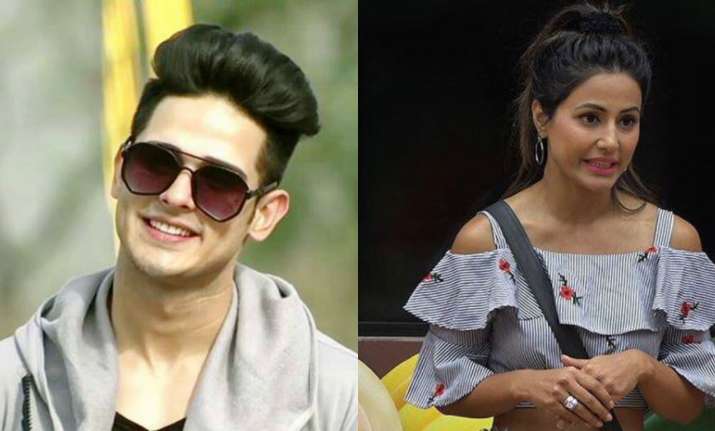 With each passing day, Bigg Boss 11 is serving more drama and emotion to its viewers. As the countdown to the finale begins, fans are leaving no stones unturned to vote for their favourite contestant. Among those nominated this week are the top contenders including Vikas Gupta, Hina Khan, Luv Tyagi and Shilpa Shinde.
In tonight's episode all the nominated contestants will visit a mall and live voting will be conducted there. On the basis of votes, one of the contestants will be ousted from the show. It will be really shocking to see if any one among Vikas, Hina or Shilpa gets eliminated. Also, growing popularity of Luv has hinted that he is also one of the top contenders in the game.
Recently, evicted contestant Priyank Sharma wrote a message on Instagram supporting his two friends Hina and Vikas. Along with a picture, he wrote a long note for both of them. Writing for Vikas, Priyank said that he sees him as a winner, however what caught our attention was his message for Hina. The Splitsvilla winner wrote that he can't wait to see her holding the trophy in just 10 days.
This is Priyank's note for Vikas: ''And I saw you sitting all alone and not eating properly. You are a fighter. Remeber we used to tell each other. YOU CAN DO THIS. THIS IS YOUR TIME OF GLORY. You have given me a lot of strength. You can do this. We can do this. Remember? Few more days to go. I am with you, your family and friends are with you. After all those fights, the relation I have now is even more and stronger with this boy. He is my inspiration, my elder brother, my family. But that doesn't mean we will stop fighting of course not. I will fight with you. I am sorry I am the younger one and you have to deal with this since I am a star also now in your sarcastic language GO and SUPPORT this boy India, I see him as a winner. Do you guys too?''
For Hina, he wrote: ''So I met this woman inside the house. You are one heck of a lady and one amazing person I got to know inside the house. We have seen a lot of ups and downs in the house but that doesn't mean our friendship won't be there. I just wanna tell you that you're doing amazing in the house and after all it's a game show. Can't wait to see you just after 10 Days holding the trophy. You are the SHERKHAN and AIR KISSES to you. More and more power to you my pretty lady. I am always there with you.''
Now we wonder that is this just Priyank's expectations or has he really dropped a major hint?
On a related note, both Shilpa and Vikas received lot of love from well-wishers during their mall visit, however things turned a bit ugly for Hina as someone pulled her hair.
Keep checking this space for all Bigg Boss 11 updates