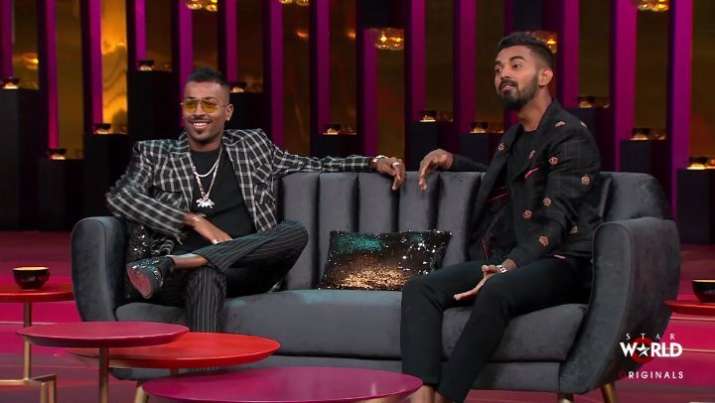 Koffee With Karan 6 is doing a change in its format for a bit. Taking a break from inviting only Bollywood celebrities as guests, host Karan Johar has brought popular cricketers Hardik Pandya and KL Rahul on the couch.  After having Sonam Kapoor and her siblings Harshvardhan Kapoor and Rhea Kapoor as the guests, Karan Johar is all set to host another fiery episode of Koffee With Karan with this dapper cricketer duo who are seen making tongue-in-cheek remarks in the promo.
In the promo, when Karan Johar asked KL Rahul and Hardik Pandya to tell who among the two is more likely to get distracted by the cheerleaders, Rahul said it can't be Pandya since he has already dated all of them. While talking to the host KJo, KL Rahul revealed that people often think that he and Hardik Pandya are dating each other!
In the next question, Karan Johar asks have they ever forwarded the same flirtatious texts to multiple women, Hardik Pandya proudly points towards himself. He cheekily goes on saying that he felt the same way for all those women.
When Karan asks him what's the naughtiest thing Hardik Pandya has done in the locker room, he says he likes to spank his teammates!
Talking about Hardik Pandya and KL Rahul, both enjoy a legion of fans on the social media. Hardik have over three million fans on Twitter while Rahul enjoy 2 million fans on the micro-blogging website.
In the past, Karan Johar has had many non-Bollywood celebrities on his show including Mahesh Bhupathi and Vijay Mallya. The show has featured almost every Bollywood celebrities, be it new or veteran.