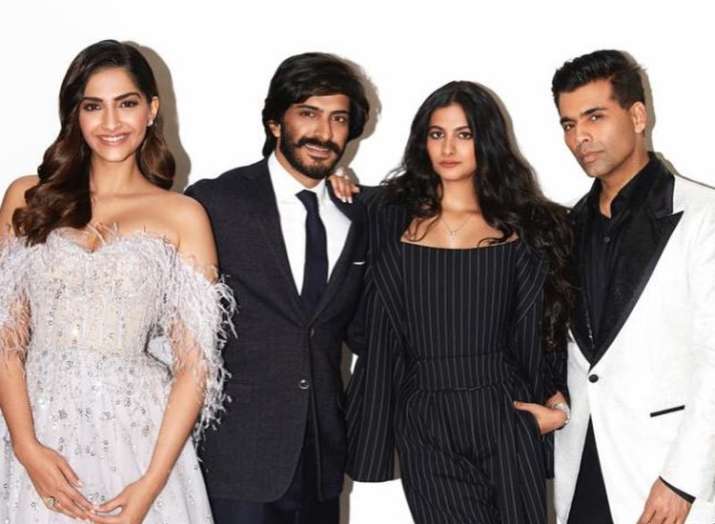 Koffee With Karan 6 Highlights: It's time to set the house on fire for the most popular Kapoor siblings- Sonam, Rhea and Harshvardhan. Belonging from the filmy family, the trio has always been a part of the limelight but it was only Karan Johar who could pin them down together on his couch and force them to reveal spicy secrets about their life as well as their ever-so-young father Anil Kapoor. The promos shared by the channel have already created quite a buzz and fans are excited to get a hang of the weird and funky side of these Kapoor youngsters. While people have seen Sonam and Harshvardhan on the big screen, Rhea Kapoor is a surprise package for many as she portrays her mimicking skills on the most entertaining show Koffee With Karan.
Here are all the LIVE updates from the episode:
10:00 pm- In the last segment, the Kapoor siblings are asked to call their family members and tell them to say 'Hey Karan, it's me'. Arjun and Sanju Kapoor helps Harsh while Anil Kapoor's wife, Khushi Kapoor help Sonam Kapoor. Rhea is unable to contact anyone from the house. The deciding call is made by Harshvardhan to his mom and he wins the gift as well.
09:57 pm- With all the spicy and non-diplomatic answers, Harshvardhan Kapoor wins the Koffee hamper. 
09:55 pm- Next to come in spotlight is Rhea Kapoor. She reveals that scripts are bankable now over actors. Rhea Kapoor advises Katrina Kaif to not cover with a body like that. She ranks as Anushka Sharma first in her fashion preferences. Talking about the film closer to her heart, she says Veere Di Wedding. 
Now it's Harshvardhan Kapoor's turn. Karan Johar named few actors and asked Harshvardhan what is one thing that they have and he wants. When Karan named Ranbir Kapoor, a reply comes, "Alia Bhatt." For Sidharth Malhotra, he says Karan Johar. A director Harsh wants to impress is Shoojit Sircar. Harsh picks Ranbir as an actor over Ranveer Singh and Alia Bhatt as his next co-star.
09:45 pm- Time for the spicy rapid fire round! Sonam Kapoor kickstarts the segment. Talking about which actor looks best with her, she names Fawad Khan. Considering how close these sisters are and how often Rhea styles Sonam, it certainly comes as a surprise when Sonam reveals that she hasn't revealed her weight to sister Rhea. Sonam Kapoor picks Salman Khan as the best co-star and Neerja over Veere Di Wedding as her best film. 
09:35 pm- Rhea does a mean impression of Kareena Kapoor Khan from Veere Di Wedding. Rhea also reveals that Sonam and Kareena don't know their popular song Tareefan lyrics till date. Infact, Kareena even lip-sync the wrong lyrics infront of Badshah. After which, KJo shows video clips of the trio's friends and colleagues who reveal saucy details about the three.
09:25 pm- Karan Johar next shows a video clip of Anil Kapoor in which he shares interesting details about his kids. Anil even requests KJo to ask Rhea mimick Kareena Kapoor Khan. He also says that among the three siblings, Harsh is the most mature one. For Rhea, Anil says she is crazy and mad. 
09:20 pm- Rhea Kapoor also reveals that her father didn't want her to become an actress. She says, "He was just afraid that I would be the heroine's sister or just like lurking around. He could see through my personality." Adding to it, sisters Sonam and Rhea reveal that father Anil Kapoor starts his day with the gym and works out for 45 minutes and after that remains in the gym for about three hours to check out what others are up to. He also does voice exercises, acting classes and prepares himself for the role with the acting coach to make the scene right. He motivates himself with the quote "I'm killing it. I'm gonna kill everybody, I'm gonna do this" by looking at himself in the mirror. Sonam and Rhea laugh. Karan Johar also adds, "As per Priyanka and Ranveer when they were shooting for Dil Dhadkne Do, Anil Kapoor always used to say 'Forget you all, I'm looking the best."
A day in the life of @AnilKapoor, narrated by his three kids for the first time on national television. #KoffeeWithKaran #KoffeeWithKapoors pic.twitter.com/tbaGR3U6Cr

— Star World (@StarWorldIndia) December 30, 2018
09:12 pm- Coming to their father Anil Kapoor, the siblings reveal interesing things about their dynamics with him. Anil Kapoor is referred as 'AK' by his children and they elaborate on his daily routine of the day on the show. 
09:10 pm- Host Karan Johar introduces the sassiest siblings trio in town- Sonam, Rhea and Harshvardhan Kpaoor. The trio make a stylist appearance on the show looking absolutely in vogue. Karan Johar starts the episode by talking about fashion with the two fashionista sisters on the Kouch. They also talk about Sonam Kapoor's last appearance on Koffee With Karan with pregnant Kareena Kapoor Khan. On the serious note Sonam Kapoor reveals, "I'm a huge advocate for LGBTQI (Lesbian, gay, bisexual, transgender, queer and intersex). For me, it is one of the most important things that I fight for and I hope for when there is a country and a world without labels. I'm very happy and proud that India has taken a step forward and people can live and love the way they want to love and that's very important to me. And I think it should be very important to everybody in this world." Siblings Harsh and Rhea support her views.
Talking about Harshvardhan, the sisters reveal that he is crazy in the personal life but also an introvert. They also reveal that their mother is the driving force in their life.
No points for guessing who's mom's favourite when it comes to the Kapoor siblings! #KoffeeWithKaran #KoffeeWithKapoors #sonamkapoor #rheakapoor #harshvardhankapoor pic.twitter.com/gxoitEIcQT

— Star World (@StarWorldIndia) December 30, 2018
More Bollywood stories and picture galleries
For all latest news and updates, stay tuned to our Facebook page