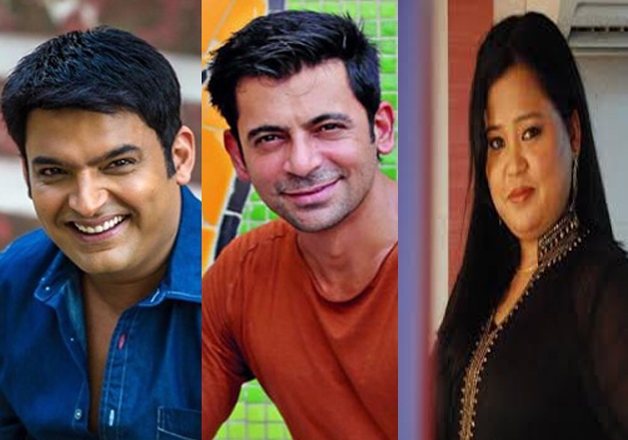 The ugly spat between Kapil Sharma and Sunil Grover has sparked off once again. This time, the comedians are pointing fingers at each other on Twitter over Sony TV's new show Family Time with Kapil Sharma. Amid the social media rant, mutual friend and comedian Bharti Singh has commented on the issue. Bharti, who is currently on a honeymoon break with husband Harsh Limbachiyaa, said that did a call regarding the matter but she doesn't know the inside story.
"I got a call that this happened between them on Twitter. I generally follow Youtube and Instagram and don't look at Twitter much. I don't have anything to say about what happened between the two on Twitter. I don't know the inside story," Bharti Singh was quoted as saying.
Bharti Singh also talked about Kapil's new show Family Time with Kapil Sharma. "I am very happy about Kapil bhai's comeback to television. We were all very sad when the show went off air. One should not stay away from the audiences for too long. People have been asking me if I am joining his show, and I will tell them that I will if required. Otherwise, it's a game show, and Kapil bhai feels that he would not be able to utilise me in the show properly", the comedy queen said.
On Kapil Sharma Vs Sunil Grover's mid-air fight, Bharti earlier said, ""Kapil Sharma ji is my teacher. Without him I wouldn't have been where I am today. For the last six-seven years, I've been really good friends with Sunil too. I've enjoyed working with both of them. I love them a lot. I hope everything gets sorted soon," Bharti said.
When asked about reports that the two might never work together again, Bharti said that both Kapil and Sunil are very chilled out and she felt really bad when she heard the news of them planning to part ways.
"I know they are good friends and together they have given such a hit show. I have a feeling that things will soon be alright between them and they will work together again", the comedian added.