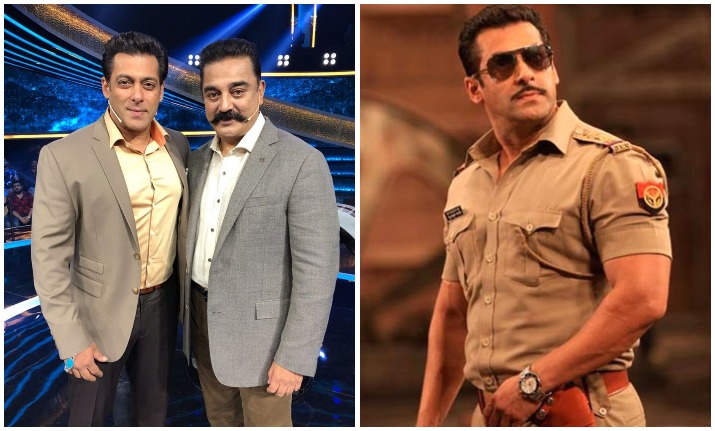 Salman Khan's Dus Ka Dum has some interesting celebrity lineup for the coming episodes. Earlier today, we told you that Shah Rukh Khan and Rani Mukerji are coming together after 12 years for Dus Ka Dum season 3. Before that, Kamal Haasan has already shot for an episode of Dus Ka Dum with Salman Khan. He was present on the show to promote his upcoming film Vishwaroopam 2. Also seen on the sets were Bigg Boss 11 winner Shilpa Shinde and Yeh Hai Mohabbatein actor Karan Patel.
On the show, Salman Khan will ask Kamal Haasan to say his iconic dialogue 'Ek baar jo maine commitment kar di toh main apne aap ki bhi nahi sunta' from Dabanng. Obliging to his demand, the Vishwaroopam actor said the dialogue but in Malayalam.
Both Salman Khan and Kamal Haasan were wearing the same coloured suit. It's surely going to be an entertaining episode. The episode will air tonight at 9:30 pm on Sony TV.
The dumdar weekend @ikamalhaasan on #Duskadum with @beingsalmankhan tonight 9:30 pm on @SonyTV pic.twitter.com/vvBtdyMzeY

— Mandvi Gayatri Sharma (@MandviSharma) August 4, 2018
Talking about Vishwaroopam 2, the sequel has Kamal Haasan reprising his role as a R&AW Agent Wasim Ahmad. The previous instalment of the film faced a lot of criticism from various quarters. However, Salman Khan came out in the support of the film. He wrote, "Hope each n every fan of his supports him like I am doing n want all my fan to fully support him. Bhool gaye kya ek doojeh ke liyeh.'
Also See: Photos: Kamal Haasan, Shilpa Shinde and Karan Patel with Salman Khan on Dus Ka Dum sets
Talking about his film, Kamal Haasan told IANS, "I always believe in an espionage film. My eldest maternal uncle was in the police department and moved on to the Intelligence Bureau, so the stories that we heard from him were absolutely on the other end of the spectrum as compared to the James Bond films. We all wanted to join MI6 and he trained with MI6, and the stories that he used to tell were something else. So, I always wanted to get that feeling into films. As a matter of fact, when we made 'Nayakan'… we decided (that) our bad guys will not wear checkered shirts and scarves on their necks; they'll be such that you won't be able to differentiate them from common people; but they will be indulging in the darkest of deeds."