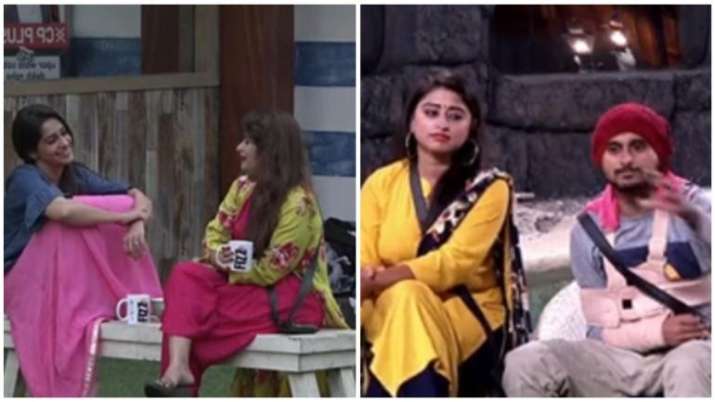 Bigg Boss 12 nomination task always comes with a twist and tonight is no exception. Tonight, Bigg Boss will give housemates an opportunity to save their friends instead of nominating their enemies for eviction. Deepak by virtue of being a captain will be given a special power to save his favourite contestant from elimination.
Deepak's feelings for Somi Khan will also come out in open and Surbhi will encourage him to confess his love to her. However, much to Deepak's dismay, Somi friend zoned him.
Kaun hoga number 1 aur kaun reh jaayega peeche? Dekhiye gharwale kisko karenge nominate iss anokhe task ke zariye. #BiggBoss12 #BB12 pic.twitter.com/i46u8B8pt5

— COLORS (@ColorsTV) October 29, 2018
There seems to be a lot of change in the relationship dynamics within the house.
 
Here are the Highlights for Bigg Boss 12 Oct 29 Episode
10: 00 PM: Sreesanth doesn't respond for some time. Later, the two argue as Karanvir felt Sreesanth made him wait for no reason. Karanvir cofnides in Deepika about his anger over Sreesanth's behaviour.
9: 50 PM:  Karanvir tells Jasleen that she wanted 1st position and both get into an argument.
9: 40 PM: Sreesanth is ranked 1, Karanvir is ranked 2, Dipika is ranked 3 and Jasleen is ranked 4. Megha is ranked 5, Rohit is ranked 6 and Shivashish is ranked 7. Srishty is ranked 8th.Urvashi is ranked 9th, the least deserving person to be in the house, according to safe contestants Romil, Surbhi, Deepak and Somi.
9: 30 PM:  To spice things up even further, Bigg Boss announces another task - The Ranking Task, where the safe contestants will have to rank the others from a scale of 1 to 9 with 1 being the most deserving contestant to stay in the house, and 9 being the least deserving.
9: 25 PM: Deepak confesses his feelings to Somi . Somi says hat she sees him only as a friend.
9: 20 PM: Captain Deepak gets the special power to nominate another housemate apart from Megha, Shivashish, Karanvir, Dipika, Urvashi, Rohit, Srishty, Jasleen. He names Sreesanth.
9: 15 PM: Bigg Boss threw yet another curve ball towards the contestants with the nomination process for the week. Instead of nominating their fellow contestants, this time the housemates had to give names of those they wanted to save from eliminations.
9: 10 PM; Romil says Megha is trying to break relations and form her own group. They also recognise how Dipika and Megha are coming together.
9:05 PM: Somi had earlier said how Deepak looks at her makes her uncomfortable. Now, Somi takes it as a joke and the banter continues. The joke continues as Rohit and Srishty also discuss this topic.
9:00 PM: Megha and Romil are discussing about their strategies. She talks about her insecurities that she feels people might just sacrifice her.
For all Bigg Boss 12 news and gossips click here