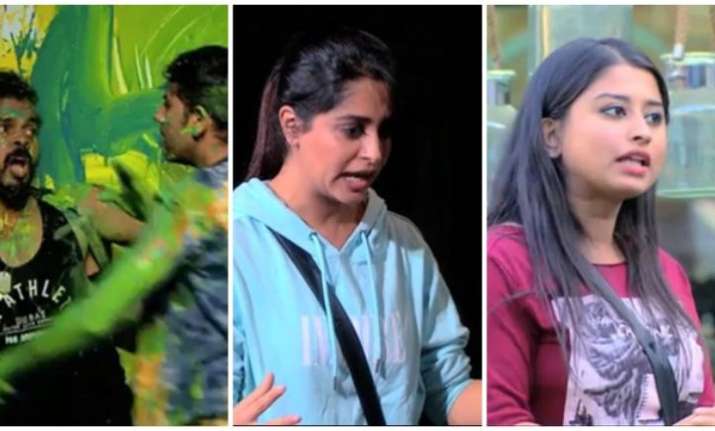 In tonight's episode of Bigg Boss 12, the contestants were given a chance to take out angst against each other in a yet another interesting task. The task was organised in garden area and moderated by captain Surbhi. Deepak and Dipika analysed the game of their fellow contestants by answering the questions asked by Surbhi.
When Surbhi asked the two who among the housemates do not deserve to go to finale, Deepak named the moderator herself and says the winner should be humble.
.@ms_dipika ne kyun thehraaya #SomiKhan ko #BiggBoss12 ka sabse weak contestant? Kya #SomiKhan ko mila hai unke doston ka sahara, ya alag hi hai kuch maajra? Find out tonight at 9 PM. #BB12 pic.twitter.com/ewg5L0goXH

— COLORS (@ColorsTV) December 13, 2018
When Surbhi asks to name a person who has kept his real personality hidden, Dipika takes KV's name and says he seemed to overdramatise everything and does not look real. Deepak names Dipika however and says according to his opinion, Dipika is the fakest.
With Dipika Kakar Ibrahim's team, comprising Rohit and Deepak Thakur, winning the Chinese food cook off against Somi Khan's team - comprising Sreesanth and Romil Choudhary - the former cricketer is very upset. He gets teary-eyed that he is unable to perform any task properly and couldn't help his team win. This emotion stays with him even on tonight's episode when he has to compete against Romil in a wall painting competition. 
Sreesanth has to paint the wall blue while Romil has to paint it yellow. Whoever manages to cover more area of the wall with their paint will win the contest. The competition gets heated up pretty quickly and both Sreesanth and Romil get into a physical brawl. If only they had blended together like their colours into a harmless green, things would have been far more peaceful in the house.
In another task, Dipika and Deepak have to slam other contestants, but these two end up getting slammed when their unfavourable comments don't go down well with the other housemates.