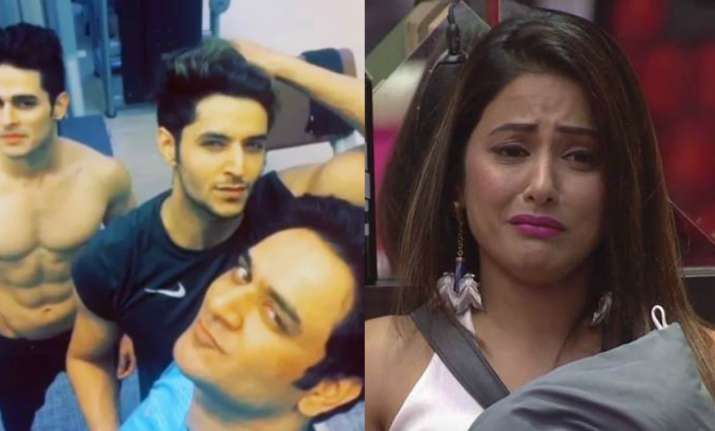 Hate her or love her but you can't ignore her. That's Hina Khan in Bigg Boss 11. As she played the role of a sanskari bahu for eight years, people thought her to be the same in real life as well. But, unfortunately she is not so. Hina who has blind followers has been slammed by many TV stars for her double standards and self-obsession.
Recently her comment on Vikas Gupta left him in tears. In one of the episodes, Vikas was properly dressed and that made others to mock him. Hina too took a sly dig at Vikas who was wearing formals and asked that is he going for an interview or bride hunt. That hurt Vikas and he was not able to control his tears. Later, Priyank Sharma asked Hina not to poke him and consoled Vikas.
This incident didn't go down well with Vikas's brother Siddharth Gupta as well who lashed out at Hina for bullying his brother. He called Hina's remarks below the belt and also said that the actress is a hypocrite. Talking to Bollywood Life he said, ''I feel what she said about his dressing was really below the belt. It was so so disappointing I can't tell you. It is in poor taste and I feel everyone will agree shows what kind of person Hina is. Yes, she has blind fans and a PR machinery behind her but that does not dilute what she is doing inside the house. I feel that Hina Khan is the definition of hypocrisy. She won't stand by what she preaches. Many of her comments are below the belt.''
In last episode, Arshi Khan got eliminated from the show. Meanwhile, Vikas became the first semi-finalist of Season 11.
Stay tuned to this space for all Bigg Boss 11 updates