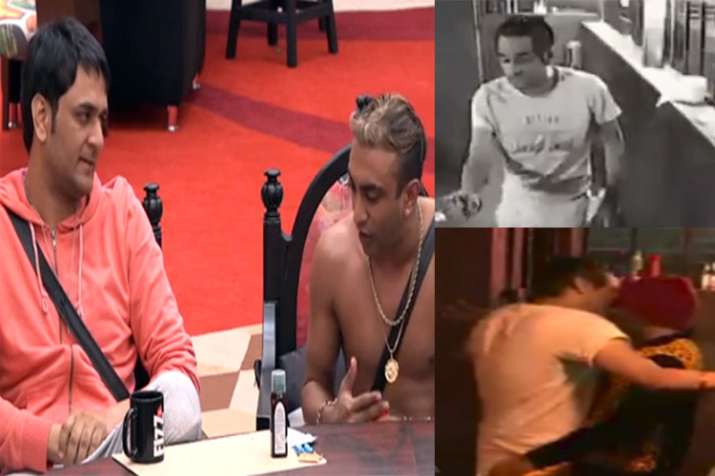 Bigg Boss 11 contestant Vikas Gupta was playing the game very well and was supported my many of his celebrity friends but seems like things have changed now. Yes, the mastermind of the show indulged into physical brawl with Akash Dadlani. This became the topic of discussion on the internet and people started to slam the mastermind. In fact, 'Evict Vikas Gupta' became the top trend on social media. Will Salman throw Vikas or Akash, out of the house in Weekend Kaa Vaar episode?
It so happened when Akash, Vikas and Arshi Khan were in the jail. The rapper tried to torture Vikas, who got provoked and came too close to Akash. He then pushed him away, which started a physical brawl. This is known to all that getting physical during fights is not allowed in the house. Thus, chances are high that strict punishment will be given to both the contestants.
I think its time for new trend #EvictVikasGupta
Hina nd shilpa fans come together nd pehle iss gupti ko bahar nikalte hai phir apni ladai ladenge guys lets start trend #EvictVikasGupta

— Raj patil (@rajpatil98) December 21, 2017
While entering the jail, Akash made it clear that he is going to make Vikas's life miserable in Kaalkothari. Shilpa Shinde tried to convince him not to do so but Puneesh Sharma instigated him.
@BiggBoss is about mental strength if vikas isnt mentally strong then he should leave what is this violenece even shilpa was provoked did she get physical NO#EvictVikasGupta

— thisisfatema🌟My Doll🌟Hope (@Doremonlove) December 21, 2017
Interestingly, this is not the first time that Akash has involved in fights. During the initial days of the show, Priyank Sharma was thrown out of the house because of the rapper and Benafsha Soonawalla also pulled Akash's hair during the fight. Puneesh hurled a shoe at him. It clearly indicates that he can provoke his enemies to that level that they can break the rules of the house to hurt him.