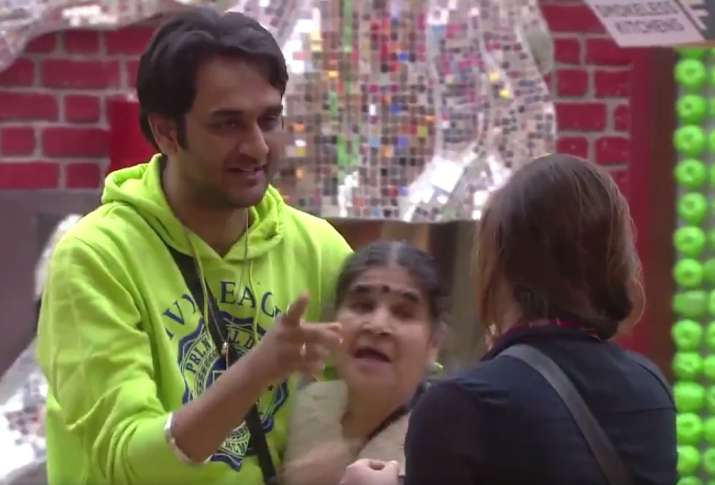 Tonight's episode of Bigg Boss 11 is going to be oozing with emotions. After all the family members of the housemates are to visit them tonight. According to the latest promo, Shilpa Shinde's mother, Vikas Gupta's mother, Priyank Sharma's ex-girlfriend Divya Agarwal, Hiten Tejwani's wife and kids are to visit the sets tonight. It was an emotional affair but the most shocking scene was to see the braveheart Shilpa Shinde sitting all stunned while her mother caresses her. The actress was distraught or say rather surprised to see her mom on the show.
She was sitting with her gaze fixed at the wall while her mother showers her love on her. Tears start flowing from her eyes incessantly. Surprisingly, her friend on the show Vikas Gupta is also seen crying while they were having a mother-daughter moment. Either was missing his mom or he was too overwhelmed to see Shilpa bond with her mother.
Shilpa Shinde's mother faces the camera and says, "I am very glad that my daughter is being hailed as a mother in the show. I am the mother of that mother."
This is for all the #Shikas fans who felt like hitting the screen when someone other than maa, beti & jamai came into the frame. 👍👍😍😍
Mithaiyaan baato saab log! 😍😍#BB11 #Vikas #VikasGupta #Shilpa #ShilpaShinde pic.twitter.com/JdOzyViAde

— ●P o o j a● (@PoohBaniParvati) December 6, 2017
She also whispers praises in her daughter's ear about how well she is going on the show so far. Shilpa Shinde is then rushes to hug her mom. Vikas is also seen hugging Shilpa's mother. Rest of the housemates exchanged pleasantries with her mother.
Earlier, Hina Khan was heard saying in the show that Shilpa Shinde doesn't share a cordial relationship with her mother, due to which she has become so 'heartless'. Going by their display of the affection on the show, it doesn't seem that Shilpa is anywhere distant to her mother.
Vikas Gupta's mother is also scheduled to visit the show tonight. Priyank Sharma's estranged girlfriend will also visit him in the house. Before entering the house, Divya Agarwal spoke her heart out in an interview with IB times. She said, "'I wanted people to stop judging him and me with each other's name. Now that he knows that I have parted ways, he is free to do anything. Now people won't judge his actions - this saved both our image. I can't deny what all happened inside the house. I was hurt and one last meeting was important.''
Let's see tonight if Diyva and Priyank reconciled or parted their ways forever for better.