Follow us on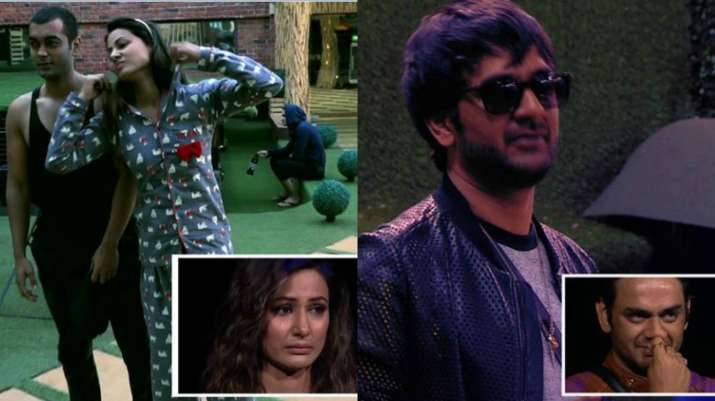 With just a day left in the grand finale of Bigg Boss Season 11, all the four contestants, Puneesh Sharma, Shilpa Shinde, Vikas Gupta and Hina Khan go down the memory lane of their journey inside the house. This season was one of the most entertaining in the history of the show and even Bigg Boss has admitted this. While Bigg Boss made Vikas Gupta buried his hatchet with Shilpa Shinde, the reality show also revealed unseen side of TV's favourite bahus- Hina and Shilpa. It was a season of some blossoming love, everlasting friendship and lot of nok-jhonk. January 13 episode was not an emotional roller coaster ride only for contestants but also for fans. 
10:23 PM: Contestants discuss about their amazing journey in the Bigg Boss 11. They couldn't believe that it has come to an end.
9:58 PM: Now it's time for Shilpa to relive her Bigg Boss 11 journey. Bigg Boss reminds her how strong she is and Shilpa couldn't stop her tears. Finally she smiles when Bigg Boss talks about her friendship with Puneesh. She also witness her changing equations with Arshi Khan, Akash Dadlani and Vikas Gupta. Shilpa thanks Bigg Boss for giving her an opportunity to show her real self to viewers.
9:33 PM: Puneesh Sharma enters activity area to watch his journey on the screen. Bigg Boss appreciates him for his ability to stand for truth and for respecting relationships. Puneesh becomes nostalgic while watching Bandgi and his love story on screen. Bigg Boss wishes him luck at the end. Puneesh defines a recap of his journey as crazy
9: 16 PM: Vikas tells contestants that they will have their best experience in that activity area. Hina enters the activity area to witness her amazing journey in the house. Bigg Boss calls her tough contestant and pats her back for her good behaviour and straight forwardness. Bigg Boss also reminds her that how contestants targeted her by calling her with different names. She gets emotional while watching her friendship with Luv and Priyank. Hina is overwhelmed after watching her journey and excitingly narrates it to other contestants.
9:00 PM: Housemates wake up to the song 'Buddhu Sa Man Hai'. Vikas, Shilpa and Puneesh gossip about Hina and this upsets her. While all were bitching about her, she was silently lying on her bed. Bigg Boss calls Vikas in the activity area and makes him revisit his entire journey inside the house. Bigg Boss appreciates Vikas for his patience while dealing with Shilpa. Vikas gets teary-eyed while watching his journey on the screen however, he smiles while watching his spat with Shilpa.
Stay tuned to this space for all updates