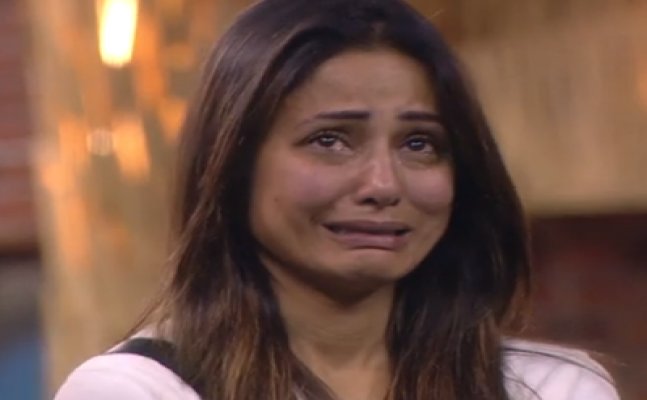 In the last episode of Bigg Boss 11, popular contestant Hina Khan was in tears. The TV actress was deeply hurt and saddened by Akash Dadlani and Puneesh Sharma's bad behaviour during the luxury budget task. Hina was seen sobbing all alone in the garden area of the BB 11 house and, even fellow inmate Sabysachi came to console her, she brushed him off.  Now, Hina Khan's brother and father have come to the forefront to speak on the issue. They said that it's very difficult for them to see Hina in Bigg Boss like this and, also added that she is not used to such kind of a brash environment.
Speaking to The Times of India, Hina Khan's parents said, "Hina maybe inside but we can feel each and every emotion she is going through. She has never been around people who use such language and so yes it's extremely difficult for her."
Furthermore, they said Hina is a strong fighter and, the other Bigg Boss contestants are targeting her as they understand that by picking a fight with Hina they will get more screen space. 
"It's a show on controversies and each contestant inside knows that she is the strongest contender. Hina is doing very well and we are sure she will continue to fare well in the game", they added.
When Hina Khan and Shilpa Shinde made fun of Dhinchak Pooja
The beloved bahus of small screen faced backlash on the internet where people stated that though Dhinchak's songs are not good but this doesn't give the ladies a right to insult Pooja. One of the tweet said, "#HinaKhan you have forgotten your manner's don't think your gaining popularity by making fun of #DhinchakPooja she has more fan following."
What happened during the luxury budget task, Khul Ja Sim Sim affected Hina Khan the most. The actress was in the opposite team of Puneesh and Akash, who hurled abuses at her and insulted her. 
Hina Khan is one of the most popular contestants of Bigg Boss 11 along with Shlipa Shinde, Vikas Gupta and Hiten Tejwani. Her fights with Arshi Khan and disagreement with Dhinchak Pooja has been making huge headlines.
What happened on October 25 episode
On the second day of the luxury budget task Khul Ja Sim Sim, things got really dirty. Arshi Khan sprayed mosquito repellent on Shilpa and almost emptied the can on her, while Shilpa Shinde poured muddy water on her. During the task, an enraged Puneesh Sharma hurled abuses at Hina Khan and was joined by Arshi and Bandgi Kalra. Arshi Khan hit below the belt by badmouthing Shilpa and spoke ill about her family.
Read Bigg Boss October 25 Review
For more entertainment news and updates, follow our Facebook page