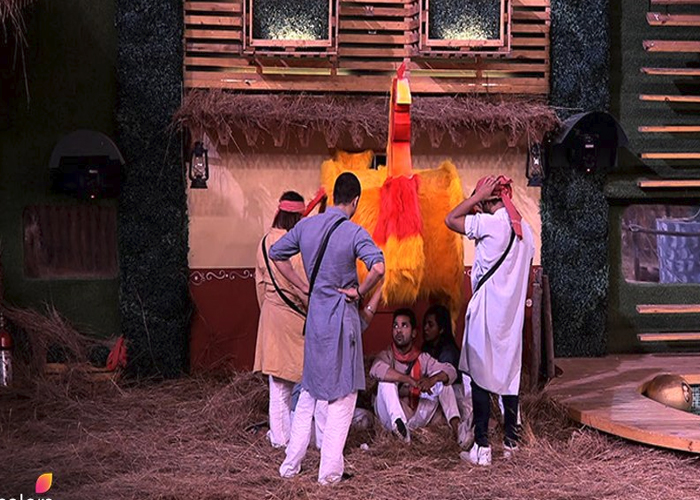 Bigg Boss contestants were all set to fight the captaincy battle today. In the today's episode, Bigg Boss assigned them a captaincy task named BB poultry farm. After Hiten Tejwani's eviction from the show, the fight to grab the winning trophy has become quite tough and interesting. In the yesterday's episode, excluding Hina Khan all the seven contestants namely Vikas Gupta, Puneesh, Akash Dadlani, Arshi Khan, Shilpa Shinde, Priyank Sharma and Luv Tyagi were nominated by Big Boss for discussing the nominations secretly. As part of the punishment, Bigg Boss nominated all the seven contestants. Meanwhile, in today's episode, friend-turned-foes Hina and Luv were also seen discussing their issues and patching up.
Live Updates: 
10:30PM: Hina complains the way the Priyank played the captaincy task along with Vikas. Puneesh reveals his plan to Shilpa and says that he made Luv and group to throw Arshi's egg in the pool.   
11:24 PM: Luv and Priyank, who had earlier promised Arshi to protect her egg, at the end betray her. Arshi lashes out at Priyank and Luv for betraying her. Arshi even shouts at Shilpa for supporting Hina.  
11:15 PM: Luv and Hina try their best to protect the egg. Shilpa suggests Vikas not to get physical in the task.  
11:10 PM: Hina's egg comes out and Luv and Priyank who are sitting next to it protect it. Shilpa discusses her plan with Hina. Vikas tries his best to steal Hina's egg.
11:05 PM: Akash picks Puneesh's egg and throw it in the pool. He says that he will throw Shilpa's egg in the pool as well. Hina, Luv and Priyank discuss about their captaincy plan. Hina asks Akash to participate in the captaincy task, but he refuse to do so. Priyank suggests Hina to protect her egg from Arshi. As per his plan Vikas tries to convince Luv and Arshi. Meanwhile, Luv explains his plan to Hina. 
10:55 PM: The contestants whose golden egg ends up in the swimming pool will be out of the captaincy race. As per the task, at least four contestants eggs should be thrown in the pool.
10:50 PM: In order to remain in the captaincy race, the housemates will save eggs. A chicken which is kept in the garden area will be hatching golden eggs at a regular interval with a picture of contestant on it. The contestants were supposed to save the eggs.    
10: 43PM: Puneesh and Vikas were seen talking to each other. Puneesh promises Vikas that he will never back stab him. Puneesh, Arshi and Vikas clear their misunderstandings. Hina and Luv fight and blame each other but at the end they bury their hatchet and shake hands. 
10:35 PM: Hina and Luv argue over their personal issues. They get into an heated argument.