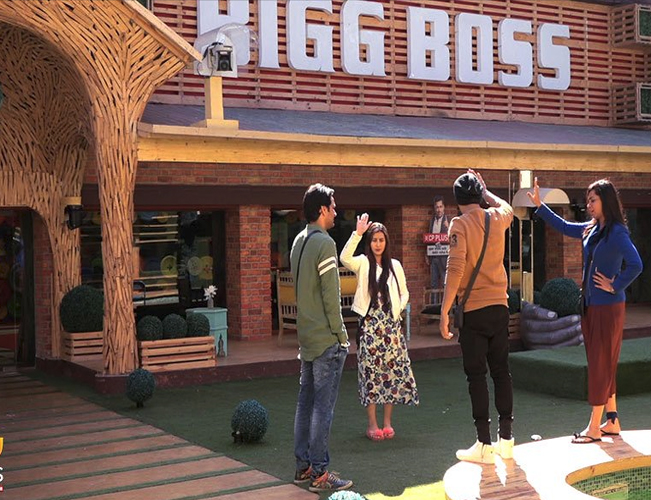 With the successful completion of the Bigg Boss 11 luxury budget task titled BB Lab, a new captain was supposed to be appointed in the house today, replacing the current captain Arshi Khan. After the task, Bigg Boss asks Arshi to select two contestants from the winning team including the sanchalak of the task Puneesh Sharma for captaincy. Housemates including Shilpa Shinde, Vikas Gupta, Luv Tyagi and Arshi Khan emerged as the winner of the yesterday's BB Lab task. As part of the task, contestants were asked to turn into robots and try their best to control their reactions while the opponent team were trying to evoke emotions in them. Interestingly, Arshi and Shilpa will be seen fighting with other for the captaincy task. 
Live Updates:
11:22 PM: Arshi and Luv get into a fight after Bigg Boss declares that there will be no captain this week. Vikas discusses the issue with Hiten. Hina says Luv made a mistake in the task. Shilpa warns Arshi and says that she will only understand the situation when she will also come in the nominations for eviction.
11:15 PM: Bigg Boss asks Arshi names of the contenders for the captain but she fails to tell. Bigg Boss then says there will be no captain for the week.  
11:13 PM: Priyank and Hina discuss about past incidents when Benafsha was also in the house. His also discusses with Priyank about all the gossips of his relationships with Divya Agarwal. 
11:10 PM: Vikas tries tocalm down Arshi. Shilpa says Arshi is a wrong choice for captaincy. Meanwhile, Akash also expresses his feeling and says he is not in the favour of Vikas. 
11:00 PM: Arshi and Luv get annoyed with each other. Shilpa takes Luv and Vikas's name for captaincy while Luv takes Arshi and Shilpa's name. Arshi says Shilpa doesn't need captaincy at this stage in the game. 
10:55 PM: Arshi and Shilpa fight over the captaincy task. Arshi is adamant to become the captain again while Shilpa too is interested to become the captain of the house. Vikas gest annoyed by Arshi and says that he will vote for Shilpa this time. Arshi and Shilpa fight for the captaincy candidature.   
10:52 PM: Bigg Boss wakes the housemates with the song Kar Gayi Chul. Bigg Boss asks Arshi to select the contenders names from the winning team for the captaincy task. Arshi, Vikas, Shilpa and Luv discuss but fails to come to any conclusion. Arshi is adamant to become the captain again. 
10:48 PM: Vikas tells Puneesh that how women in the Bigg Boss house are worst than men. Vikas says that the ladies in the house are really so mean. He also says that Shilpa is not mean but immature in comparison to others.  
10:45 PM: Vikas was shown the clippings of Hina where she calls him a mastermind. In the footage, she can be seen talking about Vikas with Priyank and Luv. Vikas then comes out and lashes out at Luv. He asks Priyank and Luv what they were discussing with Hina. Both Priyank and Luv confess that they were talking about him.  
10:32 PM: Hina Khan reacts after watching the CCTV footage of Shilpa Shinde, where she can be seen making fun of her emotions. Later, Hina tries her best to calm herself down. Hina locks herself in the bathroom and cries. Vikas tries to console Hina and she says that she is shocked to see Shilpa's behaviour. Further, Hina also gets into an argument with Puneesh.