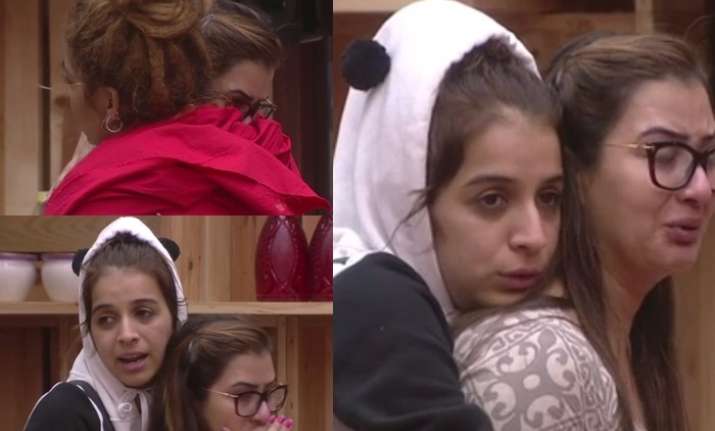 Till now, Bigg Boss 11 has been happening and eventful and it's going to take many unexpected twists and turns in the coming episodes. In last night episodes, we saw how all the housemates are paralleled against TV actress Shilpa Shinde. She has no one to support her except for Arshi Khan. The audience also saw that Arshi Khan and Shilpa Shinde are going to be the besties in the Bigg Boss 11 house. The tension among the housemates and Shilpa started when she unnecessarily picked fights with TV producer Vikas Gupta right from the episode 1. 
In Thursday's episode, Sshivani Durga was seen performing some supernatural rituals on Shilpa Shinde. This happened after Vikas Gupta alleged that Shinde is possessed by a spirit and she's suffering from split personality disorder. sShivani performs the rituals on Shilpa when she's in a deep sleep, sending a shiver down everybody's spine in the house. 
In an unseen video of uploaded by Voot, which is the official app of Colors TV, Shilpa Shinde is seen having a meltdown with Sshivani Durga talking to her. Arshi asks Shivani when Shilpa abused Vikas, everybody took a stand against her. Shinde, on the other hand, is adamant that she didn't use cuss words for Vikas or his mother. sShivani refuses that even she didn't hear Shilpa abusing his mother. 
On this, Shilpa bursts into tears. Benafsha Soonawalla is seen pacifying her. For the records, Benafsha was also appeasing sShivani when she had a breakdown earlier in the morning. sShivani apologises to Shilpa for taking a stand without gathering enough evidence. She promises that she will try her level best to maintain the stability in the house. 
Shilpa also labels Vikas Gupta as a 'Dramebaaz'. She also accused Vikas to be an play-actor and also calls herself the same. 'Main dramebaaz hu isiliye yahan (Bigg Boss house) hoon', she says.