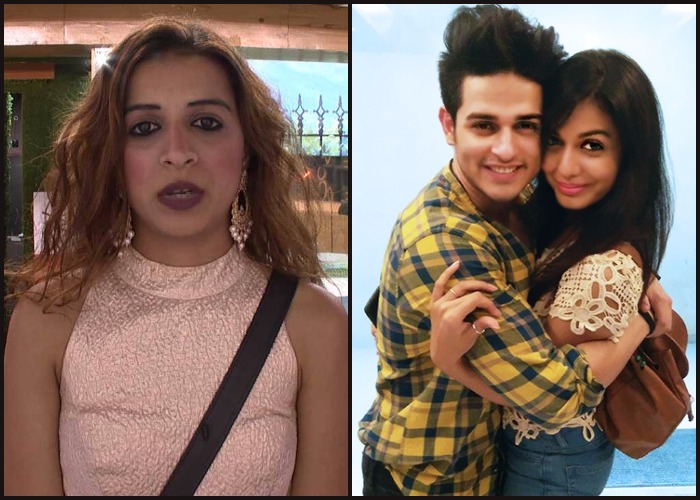 The last few episodes of Bigg Boss 11 saw a high tide of emotions. Under a special track, the family members and friends of the housemates visited them on the set. The most surprising meeting was for Priyank Sharma, whose ex-girlfriend Divya Agarwal visited him in Thursday's episode. The Splitsvilla contestant broke up with her boyfriend due to his closeness with co-contestant Benafsha Soonawalla. Priyank was stumped to see Divya in the house. Due to the task he couldn't speak anything but his tears spoke volumes about the emotions he was going through. But as soon as she left, Priyank reinstated his own stance and said that he broke up with her even before entering the house.  BollywoodLife got in touch with ex-contestant Benafsha Soonawalla to get her reaction on Divya Agarwal's statements.
.@Divya_Agarwal_'s words move @ipriyanksharmaa to tears! Watch their emotional melt-down tonight at 10:30 PM. #BB11 #BBSneakPeek pic.twitter.com/sGfoS5cCaL

— COLORS (@ColorsTV) December 7, 2017
The former Bigg Boss contestant was 'upset' that she was being held responsible for their breakup. Talking about it, she said, "Why do people think I am the only reason why Divya has broken up with Priyank. Once I came out, I spoke to Divya. We are not best friends but we spoke well. She told me, Ben, it's not your fault. Divya's main problem is that her name has not been mentioned by Priyank as she expected it to be. He has been mentioning other girls. She is like, why is my name not being taken. He is talking about this and that girl. Priyank's statements are changing by the day. "
She also told that she doesn't know much about the relationship shared by the couple. She added, "Last night, he told Hina (Khan) that they broke up before he went inside. I don't think Divya was rude. I felt she was pretty polite. Yes, she was hurt. Perhaps it was not the occasion to break up. I feel it was a little too early. As per my opinion, she could have let Priyank come out and talk to her. Divya is a lovely girl. But once someone's inside there is a communication gap. When I came out, I had to explain to many people that all that they were seeing was not the actual thing. You are inside for 24 hours and there's a lot of editing. No one knows what happens in the uncut footage."
Benafsha also added that only Priyank Sharma knows what he truly feels right now. She said, "I felt that Divya was not rude, she was concerned and advised him well. When she spoke about their fans, I felt her intention was not to psyche Priyank out. It was like Kuch galat ho raha hai, usko sahi karo. She told him to think individually and that advice was extremely important. She told him that Vikas was only his genuine friend and she did the right thing by saying that."
Both Divya Agarwal and Benafsha Soonawalla are on the same page when Priyank Sharma's friendships in the house are concerned. They both believe that Vikas Gupta is his only genuine friend. Do you think Vikas Gupta really cares about Priyank Sharma? Do let us know in the comments' section.