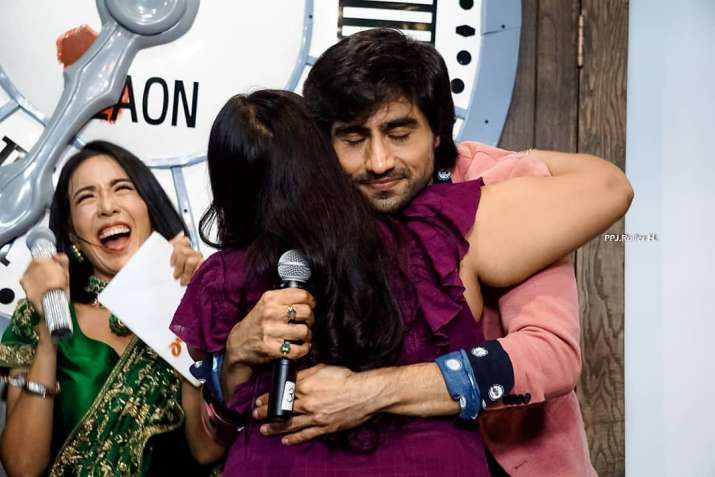 There's no doubt that Harshad Chopda is one of the most loved TV actors in India. His popularity is not only confined in India, but it traverses boundaries. Thai people who love watching Indian daily soaps are in awe of Harshad Chopda. Such is his fan following that he was showered with overwhelming response from public on his visit to Thailand. According to the reports, Jennifer Winget starrer romantic daily soap Bepannaah will now air in Thailand. To promote the show, Harshad Chopda visited the country and was welcomed by his fans in the grandest way. 
Harshad Chopda clicked at the studio during the interview.

~posted by @thaich8 #HarshadChopda #Bepannaah#HarshadChopdaInThailand pic.twitter.com/HmP9Lw1hSK

— Harshad Chopda Universe (@HC_Universe) May 31, 2019
I met #HarshadChopda Guyz 😭😭😭😭😭😭😭😭😭😭😭😭😭.....m still crying 😭😭...... @ChopdaHarshad #HarshadChopdaInThailand #Bepannaah pic.twitter.com/x7nGQfG4CY

— Goa wali Dr. Nupur 🌈 💁‍♀️❤️ (@DrNupurrk) May 29, 2019
Awwwwwwweeeee.......😘😘

Look at his face....so drool worthy
❤❤ #HarshadChopdaInThailand #HarshadChopda pic.twitter.com/spBKtWUdsi

— ˗ˏˋ 𝗛𝗮𝗿𝘀𝗵𝗮𝗱 𝗖𝗵𝗼𝗽𝗱𝗮 ˎˊ (@Harshadrules) May 28, 2019
Harshad Chopda is visiting Thailand for the first time. In the pictures that are being circulated by his fan clubs, he's seen signing autographs and giving interviews. When an interviewer asked him about his experience in Thailand, he said, "I feel elated, overwhelmed and on top of the world. I have come here for the first time and I don't understand the language but still I understand the feelings, I was very happy."
Some clicks of @ChopdaHarshad from the event ...such a cutie he is 😍😍😘#HarshadChopdaInThailand #HarshadChopda #Bepannaah pic.twitter.com/AdLf36Y4x7

— Goa wali Dr. Nupur 🌈 💁‍♀️❤️ (@DrNupurrk) May 29, 2019
Throwing light upon his character Aditya Hooda in Bepannaah, Harshad Chopda said, "I (as Aditya on the show) was doing a lot of mean things and that too to a woman (to Jennifer aka Zoya). It is most difficult to make such character likable. It was most challenging part to keep that balance and to justify what you are doing because there was a strong reason behind it."
While Harshad Chopda's chemistry with Jennifer Winget is loved by everyone, there are many female fans who want to become his leading lady. The actor laughed off their proposals and said, "What do I say, God has been kind."
Recently, Harshad Chopda and Jennifer Winget gathered together to celebrate the latter's 34th birthday. The videos and pictures from her birthday celebrations were shared by Jennifer and Harshad's fan pages.