 Movie Name:Sanju
Critics Rating: 3.5 / 5
Release Date: June 29, 2018
Director: Rajkumar Hirani
Genre: Biopic
Sanjay Dutt's life is an open book comprising mostly of dark chapters. A Bollywood actor, who lost his mother three days before the screening of his first film was a drug addict and fought a legal battle for half of his life. All these elements make for an interesting Bollywood drama. Rajkumar Hirani's fifth venture, Sanju chooses to show incidents in Dutt's life selectively. Starring Ranbir Kapoor, Sanju is dark film taking about drugs, blasts yet treatment is light. Well, that's the magic of Hirani's filmmaking.
Sanju doesn't aim to glorify Sanjay Dutt and the makers make this crystal clear in the first scene when Piyush Mishra as a servile biographer is kicked out of the house, making way for the entry of Anushka Sharma, who plays an impartial writer, Vinnie Dias. Sanju is the narrative of two major incidents in Dutt's life. The first half shows how the actor set to make his Bollywood debut, directed by his dad Sunil Dutt becomes a drug addict. Ranbir's naivety and vulnerability as young Sanjay Dutt strike a chord with your heart. In pre-interval, Ranbir is like any one of us- a young boy who is clueless about his career and can make a mess out of his life at any point.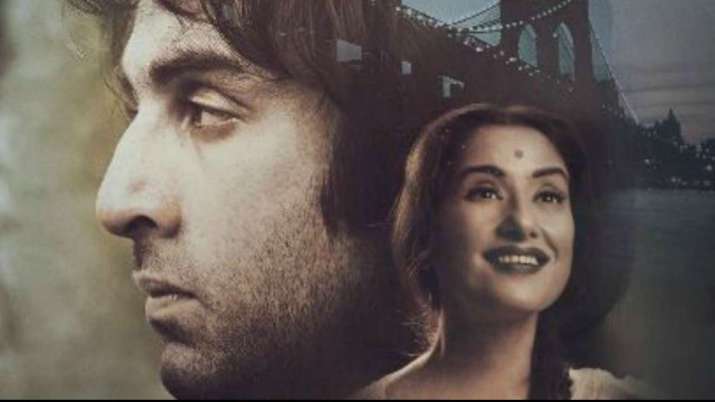 The second half brings into the scene a much-balanced Sanjay Dutt, who is now facing consequences of decisions he made in his younger days. The post-interval of Sanju gives glimpses of Babri Masjid demolition and how the incident triggered riots and Mumbai bomb blasts. It was those days when the threat of underworld was looming over Bollywood. Sanju also acts as an image-clearing tool for Sanjay Dutt. Surprisingly, it is the media who plays the baddie in Sanju. Media is shown as a 'news-making' setup. Some scenes were dedicated to 'reveal' how racy headlines in newspapers and channels hampered Dutt's image.
Sanju moves back and forth between the 90s and the present with an obvious Hirani-esque touch. Amidst all the serious moments, some witty dialogues or humorous scenes peep which makes Sanju an entertaining watch. The best part is that Hirani has done the editing work, which saves the movie from becoming drab. The moment you want Sanju to end, it ends at that point. Paying tribute to some of the best lyricists of Hindi film industry, Sanju takes you on a nostalgic ride.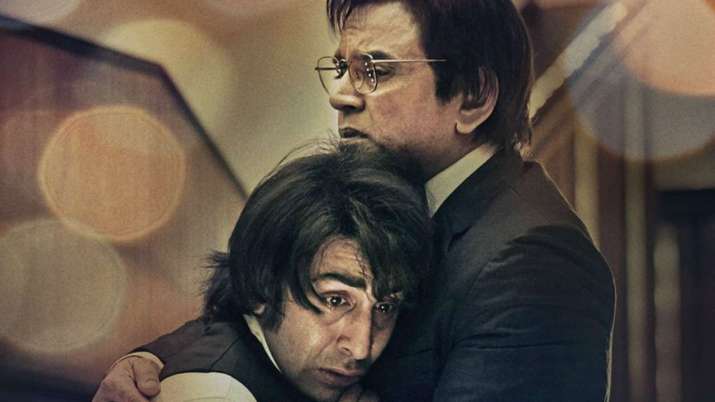 Ranbir Kapoor is the heart and soul of the film. The way he has carried himself and aced every look and scene in the movie deserve a thunderous applause. Vicky Kaushal and Paresh Rawal have brilliantly supported Ranbir Kapoor. Vicky plays Dutt's Gujarati best friend Kamlesh, who stays beside him through thick and thin. Vicky's innocence as Kamlesh captivates you. Paresh Rawal delivers a good performance as Sunil Dutt, a man who stood firm on his principles despite obstacles. Hirani lets the father-son drama and bromance have their own good time. Some scenes between Ranbir and Paresh has been beautifully woven with a lot of emotions and care. While Anushka Sharma has hardly any scope to perform, Sonam Kapoor fails to impress in her small part. Manisha Koirala shines every time she appears on the screen. She is undoubtedly a delight to watch. There are several cameos in Sanju to take you down the memory lane. Interestingly, you will also get to know how Dutt got his blockbuster Munnabhai M.B.B.S. 
Though second half gets a tad slow, Hirani holds your interest firmly with an equal dose of humour, emotions and a bit of suspense. After a long time, we have a film with good songs which you can hum even after coming out of the theatre. Sanju is definitely worth your time.