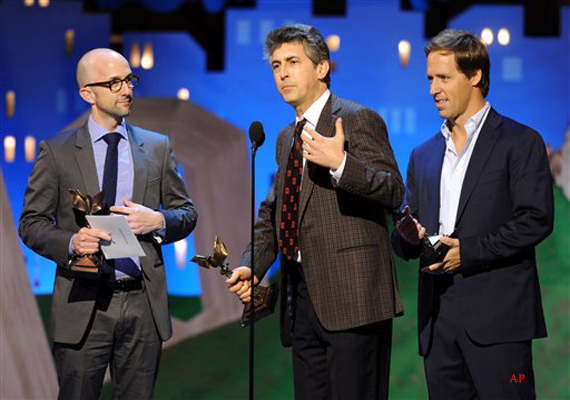 Los Angeles, Feb 27 : Hollywood veteran Woody Allen won the original Screenplay Oscar for "Midnight In Paris" about a novelist adrift in a romantic re-imagining of 1920s Paris, while Alexander Payne took home an Academy award for his Adapted Screenplay of "The Descendants". 

Allen, 76, has been nominated for an Oscar 23 times and this was his fourth win. The filmmaker was not present at the event to accept the honour. He has consistently refused to attend the ceremony or acknowledge his Oscar wins. 

The screen play of "Midnight in Paris" was nominated alongside "The Artist" written by Michel Hazanavicius, "Bridesmaids" by Annie Mumolo & Kristen Wiig, "Margin Call" by JC Chandor and Iranian film "A Separation" by Asghar Farhadi. 

"The Descendants" writer Payne won the Adapted Screenplay Oscar ahead of "Hugo" by John Logan, "The Ides of March" by George Clooney & Grant Heslov and Beau Willimon, "Moneyball" by Steven Zaillian and Aaron Sorkin and "Tinker Tailor Soldier Spy" by Bridget O'Connor & Peter Straughan.  Payne shared the honour with his co-writers Nat Faxon and Jim Rash. The film is based on the novel by Kaui Hart Hemmings.

Martin Scorsese's "Hugo" grabbed a number of technical awards at Sunday night's gala, including Visual Effects, Sound Mixing, Sound Editing, Cinematography and Art Direction.