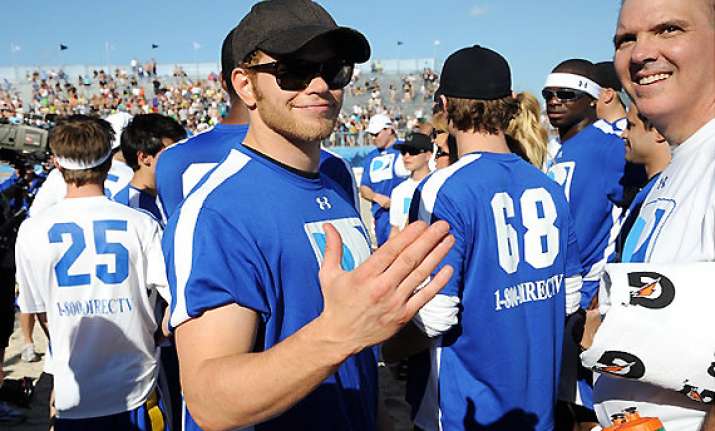 Indianapolis, Feb 4: The Super Bowl has attracted a slew of celebrities and even one very famous vampire.

"Twilight" star Kellan Lutz, who is a huge football fan, came to Indianapolis to enjoy the big game.

The actor partied on Friday night at an Audi event where he spoke about his love for football.

"All of these guys are definitely big guys," Lutz said about the professional players. "I feel small. It is a wired feeling because in Hollywood you work with actors who are small. I love sports. I love football."

He also revealed that he is rooting for the New England Patriots to win over the New York Giants, "They have a great team. Solid team. I feel in love with Tom Brady. Met him once. Really great guy and they have a really solid team. Even if Tom isn't playing, their team is solid."

Since he is a Tom Brady fan, it is no surprise that Lutz sympathizes with Brady's wife, supermodel Gisele Bundchen.

Earlier in the week, some media organizations criticized her after an email was leaked that she sent to friends and family encouraging them to pray for her husband ahead of the championship game.

"I found that very endearing," Lutz said about the email. "Very sweet to have a wife do that for her husband and give that positive energy. I think we all need that in the world. To listen to the news broadcasters and blast that and be negative towards that. I think it is really shitty."

He went on to confirm that he does have a special lady in his life and he is "never letting go" of her.