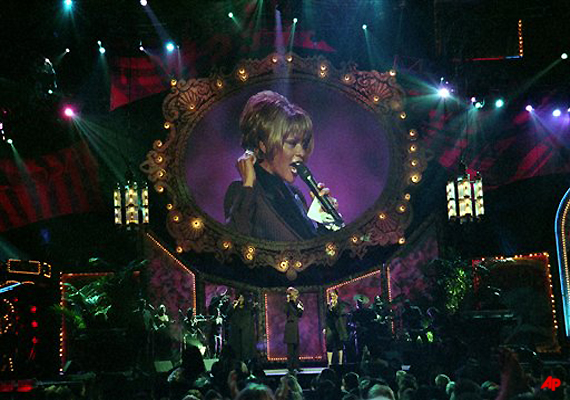 Los Angeles, Feb 12: Some of the biggest stars of the music industry paid tribute to Whitney Houston on Saturday night, just hours after she was found dead in a Beverley Hills hotel.

Houston had been due to perform at her producer Clive Davis' annual pre-Grammy party.

Davis had first introduced Houston to the music world at the very same party more than two decades ago.

Stars memorialised her at this year's gala, held downstairs from the hotel where she died.




Davis introduced singer Alicia Keys, another of his protegees, who spoke about how much Houston had inspired her as a child.

She sang a line from Houston's "I Wanna Dance With Somebody", to cheers from the audience.

"You form a friendship and a sisterhood and a bond, and you realise just how incredible they really are," she said of Houston.

P. Diddy gave his own memories of Houston, saying that "hearing her sing was like listening to magic."




The gala included performances by Elvis Costello, Ray Davies and country music singer Miranda Lambert.

Celebrities including Tony Bennett, Dr Dre, Mary J. Blige and Jennifer Hudson also attended.

Outside the Beverley Hilton hotel, some of Houston's fans left a memorial of candles and flowers.

A small group of people stood in silence, listening to some of Houston's music played from a nearby car.




Beverly Hills police said Houston was pronounced dead on Saturday afternoon in her room on the fourth floor of the hotel.

A Los Angeles County coroner's official said early on Sunday that her body had been taken to a morgue.

Houston's publicist, Kristen Foster, said the cause of death was unknown.