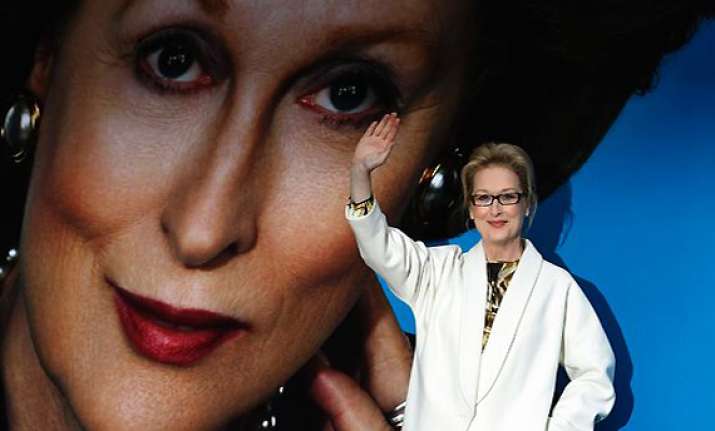 London, Jan 5: Hollywood's golden girl, Meryl Streep, put "The Iron Lady" on display in London Wednesday night.

The actress attended the European premiere of the Margaret Thatcher biopic, which was held on London's Southbank, along with her co-star Jim Broadbent and director Phyllida Lloyd.

The two-time Oscar winner is the favorite for a third Academy Award this year for her portrayal of Thatcher, Britain's first female Prime Minister who took power in 1979 and won three elections. The 62 year-old is also in the running for a best actress at the Jan. 15 Golden Globes.

Both Broadbent and Lloyd are rooting for Streep to win again.

"I'd love to see her win an Oscar. I'm sure she will - certainly if she doesn't she should," said Broadbent.

"If she doesn't win. There will be questions in the house," said Lloyd with a smile.

The movie sees Streep transform into the divisive politician who reshaped Britain and the star said while the film has been called a political biopic, it is also a human story.

"This one is special because, in England certainly, the U.K., there are such opinions about her, pro and con, and I just wanted to locate the human being inside those caricatures that we've seen for so many years and to investigate for myself what it must have been like for her," Streep said.

As prime minister, Thatcher fought a war with Argentina over the Falkland Islands, saw the 1989 fall of the Berlin Wall and the implosion of communism and was branded the Iron Lady by Soviet journalists for her steely resolve.

She presided over the decline of Britain's industrial might and trade union power and the birth of a free-market culture with new winners and many new losers.

That historical drama is only glimpsed in "The Iron Lady," which depicts the now 86-year-old Thatcher, widowed after the death of husband Denis (Broadbent), looking back on her life as a provincial grocer's daughter rising to the top of a Conservative Party dominated by wealthy men.

Thatcher was a controversial leader and the film's director admits she was worried about making the film.

"I have to say when somebody said a movie about Margaret Thatcher I felt apprehensive. I thought, 'How can you tell this story in less than eight hours of biopic,' but then I realized it is not a biopic, this is actually a very different kind of film, a film about something else, about power and the loss of power and what happens when you don't have any power," Lloyd said. "It's not a political film in that sense but it is political, it's political in making an old lady the star of the film which is something you don't see."

"The Iron Lady" is more a domestic drama than a political one, but Thatcher remains a polarizing figure and the film has been criticized by her enemies and allies alike. Foes feel it is too sympathetic, while supporters and friends dislike its depiction of the former leader as a frail old woman with dementia.