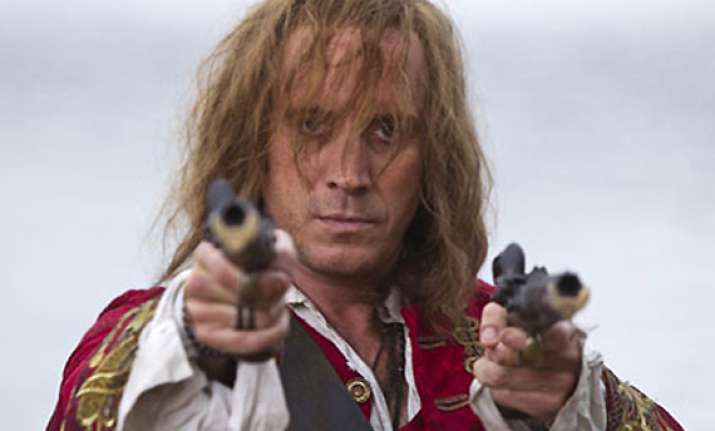 Dublin, Dec 9: Few literary characters have stood the test of time as well as Peter Pan. Since his creation by J.M. Barrie in 1902, the boy who never grew up has had many incarnations on stage and screen. And he has once more proved his enduring legacy in "Neverland" - a small screen prequel, set before Peter meets Wendy.

Written and directed by Nick Willing, the Syfy fantasy aims to explain why Peter Pan ended up in the magical world of fairies and pirates and how Hook went from bad boss to the notorious villain we all know and love.

We meet Pan (played by Charlie Rowe) as a street urchin in Victorian England where he struggles to earn his keep under the rule of Jimmy Hook before they are transported to a magical land and find themselves pitted against each other in a battle for good over evil.

Rhys Ifans takes the role of the Hook. His love interest is Captain Elizabeth Bonny -  a power-mad pirate and seductress played by Anna Friel. Speaking on set as "Neverland" filmed in Dublin, Ireland, Ifans explained how his character develops into the infamous villain.

"He's not a good guy from the beginning," said Ifans. "He's an ex arms dealer and he now has a dueling school in the east end and he also runs a burglary ring, in which he employs several young boys that he saves from orphanages and workhouses. So he's a a bit of a naughty boy from the beginning, so he has the makings of a great Hook. But what he also has is kind of an Edwardian repression, certainly sexually, and Captain Bonny unleashes a beast in him, which enables him to become the libertine that Captain Hook is."

The star of "Anonymous," "Notting Hill" and the upcoming "The Amazing Spider-Man," among others, also said that there are very adult undertones to the story. "When I think of the story of Peter Pan in itself is kind of a very Freudian or Jungian exploration of our varying relationships with our fathers, with our parents, with each other," he said.

"There's a lot of meat there. And with it being four hours long, you know there's more time to explore those themes than you would have necessarily in a 90 minute film." To bring the fantasy world to life, much of the acting was done in front of a green screen.

Friel admitted that while she likes the color, she had braced herself to change her mind after four weeks of shooting. "Green is both Rhys and mine's favorite color, not particularly that lime green, but nice forest greens or emerald green," said the actress. "I don't know if that will change after four weeks. It kind of makes you a little bit dizzy. This is only my first day on it, so talk to me in four weeks."

Luckily for Friel, she could draw on past experience to help her with the shooting method.

"I did a movie in LA, about a year and a half ago, and it was six months on green screen, but we had a lot of props and mountains to climb and things to do up in harnesses, so you've just got to really concentrate, suspend disbelief and make sure you ask your director 'So what is it we're looking at? Some big magical emerald forest and...' I'm sure we'll get in the groove the more we go. As I said, today's my first day on the green screen."

"Neverland" airs across two nights on Syfy (December 18 and 19 in Canada) and will also play in the UK on Sky Movies Premiere HD on Friday December 9, with part two on December 16.