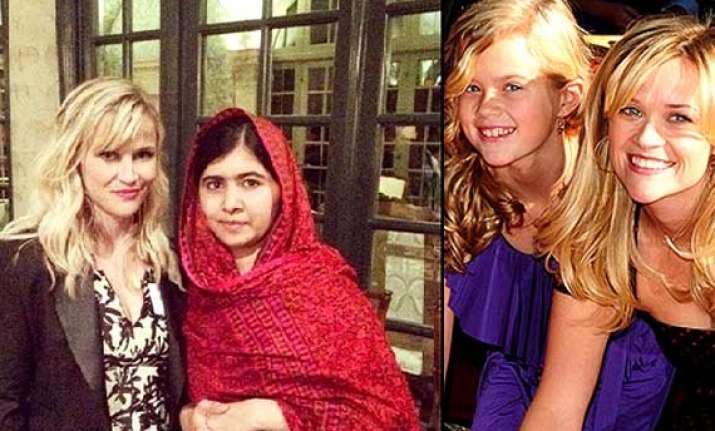 Los Angeles: Hollywood actress Reese Witherspoon finds Malala Yousafzai amazing and says her daughter is in awe of the Pakistani activist.
On Friday Yousafzai made history by becoming the youngest-ever winner of the Nobel Peace Prize and on the same day Witherspoon celebrated the activist's work
while accepting an award for her own philanthropic efforts with the Malala Fund.
Noting that it was her own daughter, Ava, 15, who first brought Yousafzai to her attention, the Oscar winner shared with the audience, which included fellow
honorees Viola Davis, Jane Fonda, Jennifer Lopez and Universal Pictures chairman Donna Langley, about her experience meeting her "role model".
"This summer, we got to meet Malala … Ava and I," she said Friday at Variety's Power of Women event, which was sponsored by Moroccanoil.
"We got to have dinner with her at a friend's house, which was incredible. She sat next to Ava at dinner and they talked about schoolwork and homework and
what their life goals were, and Ava was just in awe of this 17-year-old woman."
According to Witherspoon, 38, her daughter's interest in helping other women was first piqued at a young age when, like any other child, she had a day when
she didn't want to go to school.
"Instead of saying my usual, 'Mommy's not awake yet. We can talk about it after coffee', I actually took the opportunity to explain to her that there are a
lot of girls all over the world who don't even get the opportunity to even go to school," Witherspoon recalled about her conversation with Ava, then in the
third grade.
"My daughter found that astounding, and from that point on, Ava became determined to help others understand the plight of women around the world."
Calling Yousafzai "amazing", the actress marvelled at the teen's courage and strength.
"When I was 14, I was worried about learning my lines and impressing casting directors," she said.
"When Malala Yousafzai was 14, she was speaking out against an oppressive regime and fighting for the rights for girls to be educated around the world."