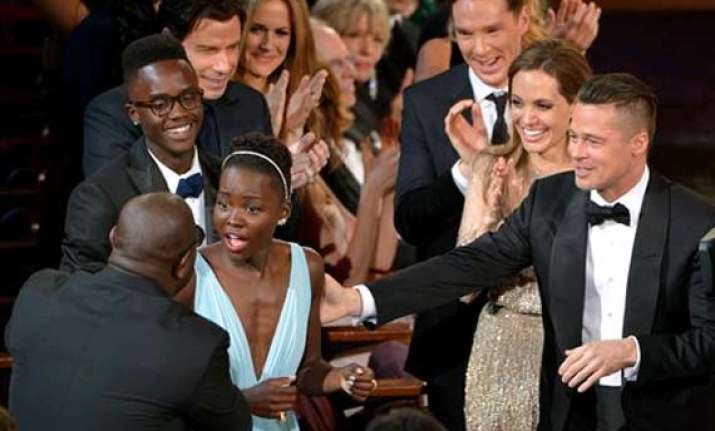 12 Years a Slave wins best film
Matthew McConaughey wins best actor award for
Dallas Buyers Club

Cate Blanchett wins best actress award

Alfonso Cuaron
wins Oscar for
Best director
"I have to remember to breathe" - Penelope Cruz to Robert DeNiro before taking the Oscar stage to present the screenplay awards.
Best adapted screenplay award goes to 12 Years A Slave and and Her grabs the best Original Screenplay award.
Disney animation Frozen wins the Oscar for best original song.
Gravity wins best original score
Leonardo DiCaprio turns photographer, uses his cell phone as he arrives at the Oscars.
Now that's something... Here's Pink's shimmery shoes...
Bette Midler performs for the first time at Oscars
Jennifer Garner, left, and Benedict Cumberbatch speak on stage.
Joseph Gordon-Levitt tweets his photo with Emma Watson
Pink gets standing ovation for paying a musical tribute to 75 years of The Wizard of Oz.
Oscars for great production design goes to The Great Gatsby
Another Oscar for Gravity, wins Best Film Editing award
Fourth Oscar for Gravity
Ellen DeGeneres tweets: If only Bradley's arm was longer. Best photo ever.
Lupita Nyong'o wins best supporting actress
Gravity gets award for sound mixing and sound editing.
Samuel L. Jackson, left, and Matthew McConaughey embrace in the audience at the Oscars.
The Great Beauty, directed by Paolo Sorrentino won Oscars for best foreign language film.
Karen O and Vampire Weekend's Ezra Koenig performed a heartfelt rendition of The Moon Song from Her.
The best short documentary goes to The Lady in Number 6
Live Action Short Film goes to Helium. The award was presented by Kate Hudson and Jason Sudeikis.
Jared Leto tweets : "At one point in my speech I found myself talking to De Niro, as if the room wasn't intimidating enough!
The award for visual effects goes to Gravity
Mr Hublot wins the animated short film and animated feature film goes to the Disney blockbuster hit Frozen.
Ellen tweets: Look who I just found backstage.
Pharrell Williams managed to get actresses Lupita Nyong'o, Amy Adams and Meryl Streep on their feet dancing with his live performance.
Jared Leto has won the Academy Award for best supporting actor for his performance as an HIV-positive transgender prostitute in "Dallas Buyers Club." Leto, 41, returned to acting after a six-year hiatus to play the role, and had widely been expected to win the Oscar. It was his first nomination.
The other nominees Sunday were Barkhad Abdi, "Captain Phillips"; Bradley Cooper, "American Hustle"; Michael Fassbender, "12 Years a Slave"; and Jonah Hill, "The Wolf of Wall Street." The 86th Academy Awards are airing live on ABC from the Dolby Theatre in Los Angeles, hosted by Ellen DeGeneres.