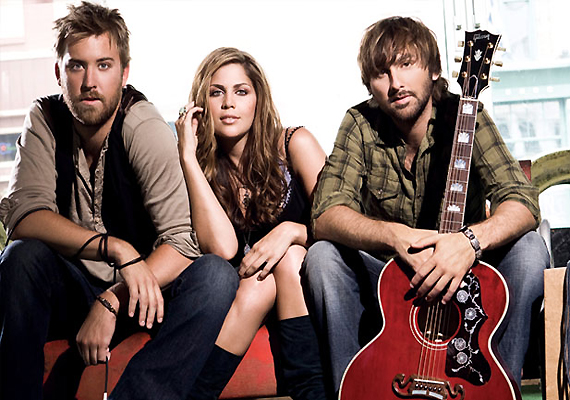 London, Feb 10: It's a party at the Grammys, and the members of Lady Antebellum are just happy to be invited back.

They took home five awards last year, including record and song of the year wins for "Need You Now." This year they're up for best country album for "Own The Night."

"We'd be lying if we said we wouldn't be disappointed after such an incredible year there last year if we didn't get invited back to the party, but it's nice to have a reason to go and be nominated. There's a lot of great records, so we're not expecting anything, but just to have a reason to go and be up for something is going to be a lot of fun. That will never get old. We hope to always be included in the Grammys for sure."

"It's fun to be able to support our friends in the industry as well," added singer Hillary Scott. "We have our really good friend Dave Barnes who's nominated for Blake Shelton's 'God Gave Me You,' and then Jason Aldean. There's a lot of our really close friends in the business that will be there that we can celebrate with them as well and just enjoy the night."

Country music had been on a hot streak in the prestigious all-genre categories at the Grammys in the past couple years—with Lady A's five wins, and breakthroughs by Taylor Swift and the Zac Brown Band the year before. Yet this year only one country nominee made the cut in the general categories: new artist nominee The Band Perry.

"I think that's just going to be a random occurrence. You're just going to have ebbs and flows," said Charles Kelley of whether country music got snubbed this year. "In certain years you get a lot of R&B songs. Certain years, there may be a year down the road there's all country songs. We'll see. We're going to try our best to get back in those categories for sure. I don't think it says anything about the genre. The genre, I think sales only went up this year. I could be wrong, but the country music genre is growing and is doing great. I don't think it's indicative of anything going wrong in country music for sure."

The band has attended the Grammys as nominees for the past three years. They don't consider themselves experts by any means, but they're veterans compared to first-time nominee friends such as Jason Aldean, Eric Church and Thompson Square.

"We'll be rooting on Jason. I know Jason's got a huge nomination this year, and Eric Church as well. We're all big fans of theirs," said guitarist Dave Haywood. "We'll be rooting everybody on, just telling them to enjoy it."

Hillary Scott has some advice for the ladies on the red carpet: "Pick up the train on your dress if you have one, because there are a lot of people in the room and somebody will step on it."

Kelley suggests writing down the people you want to thank. It's a regret of his from last year.

"I wish we had prepared more. We didn't expect to win that many, and so I think if we had, we would've tried to remember everybody. We forgot so many people that we wanted to thank, but we kind of also wanted it to come from the heart, but you get up there and you're so shell-shocked, you can't remember anything," he said.