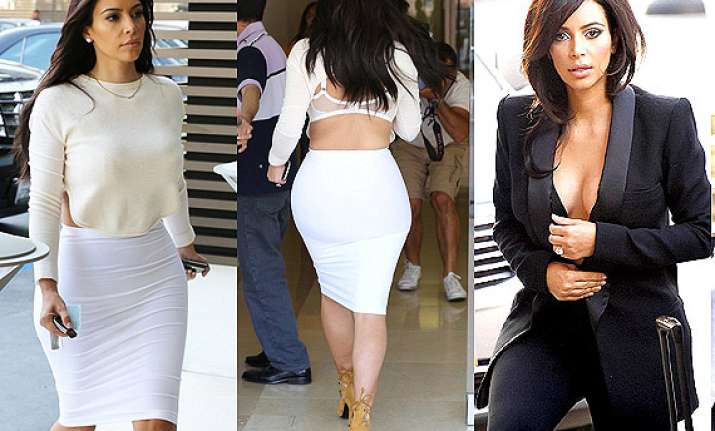 New Delhi: Kim Kardarshian is known for her over the top designer outfits but this time this busy celebrity and mother of one chose surprisingly 'formal' attire and flaunted her bra on Monday.
Recently the lady went braless in a plunging V-neck top and this time she flaunted her bra in a white ensemble. 
We all know that the reality star has no problem going braless, so why did she decide to show off her undergarment in Calabasas? 
While she may have attempted to be low-key, Kim can't fail to attract attention wherever she goes with her white 'formal' dress. The dress gave us a peek at her bra when the reality star went all white. 
From the front, Kim had covered it all. However, once seen from behind, the lady was in revealing mood.
 It seems that the star purposely flaunted her white bra while on a shopping trip.
Not only did the bra draw our attention to her back, but the cut of the undergarment wasn't completely flattering. 
Kim chose a pair of yellow heels and a tight clinging skirt to complement the top. She wore her hair down and parted in the middle.
As Kim's signature she went with big, bold lashes paired with smoky eyes and a light pink gloss. 
No doubt Kim looked amazing flaunting her curves; we aren't totally on board with the visible strap. Typically flashing your bra can be very sloppy, but perhaps Kim was hoping to start a new trend. 
Kim almost always dresses her shape so well, and she has access to tons of designer garments.
All we can say is that only a few people can pull off such dresses with style and Kim Kardashian is one of them.