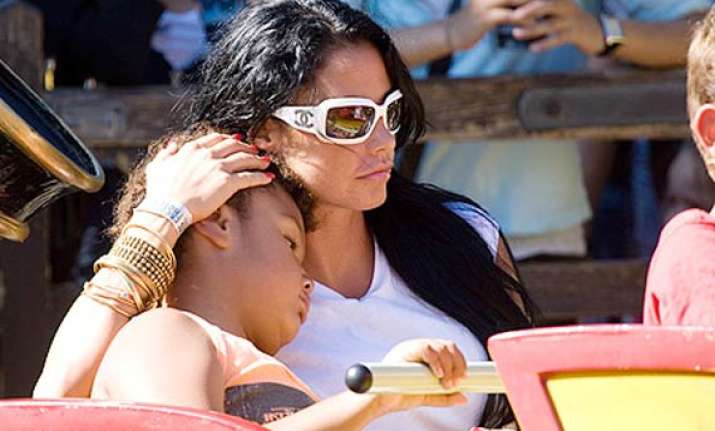 London: Glamour model Katie Price a.k.a. Jordan has in a letter to the government demanded that Channel 4 sack the boss responsible for a vile attack on her disabled son Harvey.

Jordan, 32, launched the campaign against chief executive David Abraham after he refused to apologise for giving comic Frankie Boyle the green light to poke fun at the eight-year-old.

She branded the £490,000-a-year chief "unfit" for his job in an open letter sent to culture minister Jeremy Hunt.

Boyle, 38, had singled out Harvey, who suffers from physical and mental conditions including blindness, on his Tramadol Nights show.

Telly watchdog Ofcom ruled against the comic saying he was out of line for mocking Harvey's condition, and more than 500 people complained about the joke.

But after Channel 4 took no action, and Abraham did not apologise for allowing the sick gags to be broadcast on his channel, Jordan decided to call on Hunt to intervene.

"How can Channel 4 be our Paralympic broadcaster when it discriminates against the disabled?" the Daily Star quoted her as stating.

"Would they have failed to act if the comments had concerned the colour of Harvey's skin or his racial background?

"Are the disabled less deserving of society's protection? Is Mr Abraham's position not completely untenable?" she asked.

Her comments were backed by the Royal London Society for Blind People, whose chief executive Tom Pey also called for Abraham to go.

"It is incumbent now on Channel 4 to apologise," Pey said.

"That the chief executive seeks to defend the indefensible shows a complete contempt for the regulator Ofcom, Parliament - who appointed the regulator - and the people of Britain, not least the 2.6million UK people who are blind or partially sighted.

"The chief executive of Channel 4 David Abraham should now resign. His position is untenable. He, and he alone, sanctioned this vile broadcast. He, and he alone, must now take responsibility and resign.

"If he is not man enough to resign, he should be sacked," he added.