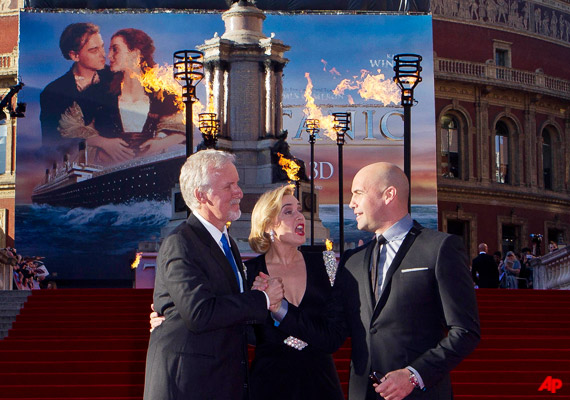 London, Mar 28: Kate Winslet joined "Titanic" director James Cameron at the Royal Albert Hall in London, Tuesday, for the world premiere to launch their smash hit tragedy back into cinemas.
The record-breaking movie is being re-released in 3D to mark the 100th anniversary of Titanic's departure from Southampton on 10th April 1912, setting sail on its doomed maiden voyage.

The famous luxury liner hit an iceberg and sank in the freezing waters of the North Atlantic on 15th April 1912, with the loss of 1,500 lives.

Cameron's vision of a cross-class love story on board became the highest grossing movie of all time - only bumped to second place by another of his own films, "Avatar."

The 1997 movie also won 11 Oscars, including best picture and best director for Cameron. Fifteen years later, Winslet is happy to be back on the red carpet for the movie that cemented her place in film history.

"It's been a really big part of my life, it's kind of never gone away, people keep saying to me, 'How does it feel to be talking about it after 15 years?', well I've always been talking about 'Titanic,' it didn't sort of go anywhere," the actress smiled. "So, it's great that it's coming out again, in 3D, and it's wonderful too, it's still the same gorgeous film."

The star shared the red carpet with co-stars Billy Zane, who played her disdainful fiance; her screen mother Frances Fisher; Bill Paxton, who played "Titanic" treasure hunter Brock; and James Cameron's wife since 2000, Suzy Amis Cameron, who played the daughter of elderly Rose.

However, the cast reunion did not include the film's leading man Leonardo DiCaprio, to Winslet's disappointment.

"It is really sad to be here without him and I'm quite cross about it but he's working, so what can you do?" she laughed. "No, you know, it does feel weird to not be here with him, but that's alright."
Those who were there shared their memories of a happy shoot, as Billy Zane summed up.

"The camaraderie really, the sheer scale and scoop was awe inspiring you know," the actor recalled, "you arrived to set and the cranes were moving on the skyline we were humbled every day and truly grateful. There was a huge responsibility to serve the story and the lives of the - the families and survivors.  But it was just a treat to be working with men and women of that calibre at the top of their game. It was an honor to be invited to participate."

The 3D conversion of "Titanic" was overseen by director Cameron, producer Jon Landau and a team of 300 technicians.

It was a painstaking process.

"..we took the original negative, we did a 4K master of that so it's a better negative than we ever had and then on a frame by frame basis we converted every frame to create a second eye by moving objects that Jim (Cameron) creatively placed in 3D space and then 300 artists worked on those shots for hours and hours and hours until every frame in the film was converted," explains Landau.

Cameron arrived at the premiere fresh from his latest deep sea adventure - to the deepest point on Earth.

He used a specially designed submarine to dive nearly seven miles (11 kilometers), to explore and film the Mariana Trench, about 200 miles (320 kilometers) southwest of the Pacific island of Guam.

Only the second ever person to reach those depths - the last was in 1960 - Cameron completed his journey a little before 8 a.m. on Monday (26 MAR. 2012) local time (2200 GMT Sunday), according to the National Geographic Society.

An oceanography enthusiast since childhood, Cameron made 33 deep sea submersible dives to film "Titanic". The Oscar-winning director confirmed his priorities on the red carpet.

"The ocean comes first, filmmaking second," he smiled. "But if I can make films about the ocean then I'm really happy."