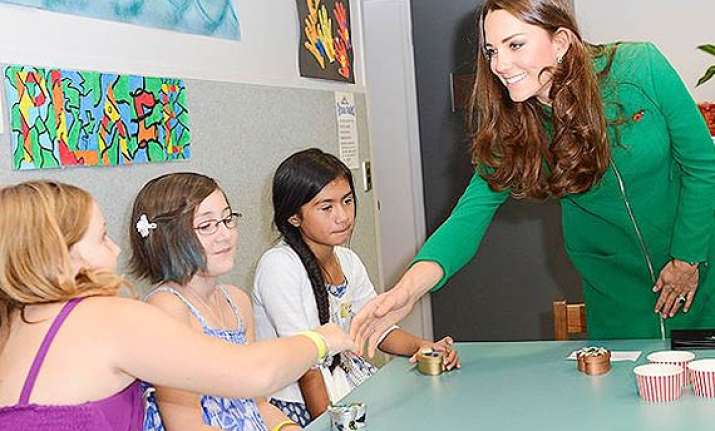 London: Kate Middleton paid a visit to ailing kids at Rainbow Place Children's Hospice.
The Duchess of Cambridge is on a three-week tour to New Zealand and Australia with her husband and Britain's Prince William and son Prince George.
Dressed in emerald coat by Erdem, the Duchess of Cambridge Saturday met with more than 40 children and their families, and after going on a tour of the facility, she said, "There should be more places like this", reports radaronline.com.
The 32-year-old also a met a 12-year-old boy named Sam Ogilvy, whose father drowned two years ago. Sam told his story to Middleton using a sand tray, saying: "I told her about my journey. She was really nice. She quite liked the sand tray idea of telling the story."
Middleton also met 6-year-old Bailey Rupe, asking about her mother, who was diagnosed with breast cancer and given six weeks to live, saying: "Are you having tea? Can I sit with you? How is mummy doing?" Middleton also added to the little girl, "Do you find it difficult sometimes? You're a very brave little girl."
After the princess's visit, Bailey said: "I was excited to meet a real princess and it made me feel like a princess for the day, too."
Midleton also visited an art therapy room and addressed children dealing with their parents' illnesses, saying: "It looks far too tidy to be an art therapy room. There's normally paint everywhere and I normally end up getting some on myself!"