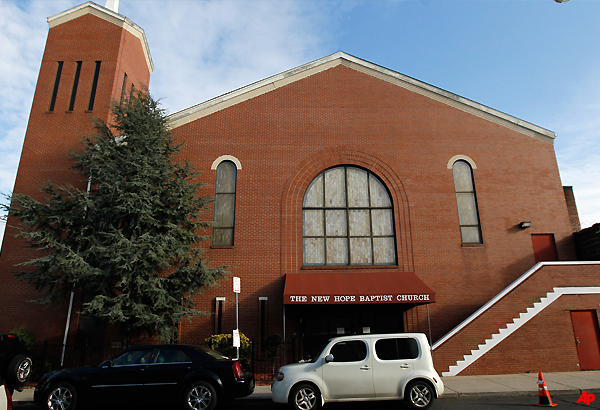 New Jersey, Feb 15: Plans for Whitney Houston's funeral are set. And contrary to widespread reports, it will not be public or accommodate thousands.

"The services are as follows: Saturday, 12 noon, at the new Hope Baptist Church, the funeral will take place," said Carolyn Whigham, owner of the Whigham Funeral Home in Newark, New Jersey.

"It will be by invitation only. According to the publicist, there will be accessibility for the media to have a certain area that they will be placed in that they will have the visibility. There will be another area for the public. Invitation only. there's nothing here. There's no viewing here, there's no service here, there's no reason for the family to be here. Next time you see the family will be Saturday."

The lack of a public memorial leaves some Whitney Houston fans disappointed.

"We're not happy about that," said Samuel Turner Jackson, who visited the funeral home on Tuesday with his wife to lay a red rose outside the door.

"We thought that they were going to go down to The Rock (Prudential Center) and have the community to pay their last respects to Whitney. We don't know what the circumstances are, but we're sure that the family did want to share something with the community that she gave so much to. But they have their reasons and you know we're going to do the best we can to pay our respects and to mourn her."

Whigham was a friend of the family and says they are holding up as well as can be expected after Houston's sudden death on Saturday (11 FEB 2012) in Beverly Hills.

"If you lost your child, how would you be holding up?" Whigham told the few media crews waiting outside her funeral home on Tuesday. "I think that's the best answer. They're, every day, every moment, every hour—one day at a time."

Houston sang in the choir of the New Hope Baptist Church when she was a child and Whigham has known her all her life.

"I've known the family all my life, going from generation to generation, starting with my parents," she said.

"We've dealt with this family for years. So it's not just a funeral service for me. I've lost a friend. I've lost a companion as far as friendship, fun, she's a beautiful, beautiful—not just outwardly, not just because she sang, but inwardly, beautiful person. And I just ask that the media give the family this time of respecting them."

The Houston family asks that in lieu of flowers, mourners should donate to the Whitney Houston Academy of Creative and Performing Arts in East Orange.

Houston attended the arts-focused school as a girl when it was named the Franklin School. She was a regular visitor for many years afterward and it is now named after her.

The singer was born in Newark but grew up in nearby East Orange, New Jersey.