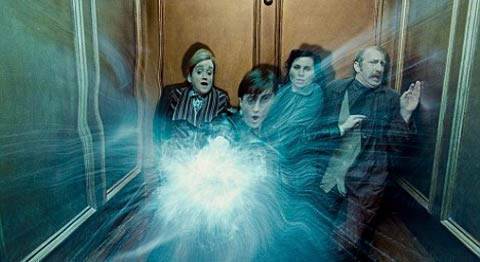 The penultimate Harry Potter movie — The Deathly Hallows, Part 1 — opens today and, with one million tickets pre-sold in the UK, it is expected to be the year's biggest box office hit, reports Daily Mail. The newspaper has listed the salient points of the movie courtesy a super fan David Thomas :..
1 Is the first Harry Potter film in which ­Hogwarts School of Witchcraft and Wizardry is not seen at all.
2 Became the first two-part Harry Potter film, as the scriptwriter Steve Kloves found it impossible to fit all the ­elements of the book into a single story.
3 Required Daniel Radcliffe to impersonate six actors as their characters took a Polyjuice Potion, which made them look like Harry Potter. The scene — which took three days and 100 takes to shoot — ends with seven Harry Potters in the same room, at the same time, all played by Radcliffe.
4 Features a chase between evil Death Eaters and the motorbike and sidecar ­containing Hagrid and Harry, which was filmed in the Dartford and Mersey ­Tunnels in East London and Liverpool.
5 Brought traffic to a standstill in London's Piccadilly Circus when a scene was shot there. Although ­filming took place before dawn, ­hundreds of Potter fans turned up.
6 At one point in the film, Harry, Ron and Hermione end up in a London diner. On the wall is a poster from Equus: the play in which Daniel Radcliffe starred as stable boy Alan — a role that required full nudity.
7 Ends at a cottage made of shells, on a beach in Pembrokeshire, Wales. The cottage was held down by water bottles, weighing several tons each, to stop it blowing away